What Makes 3M Duct Tape So Strong?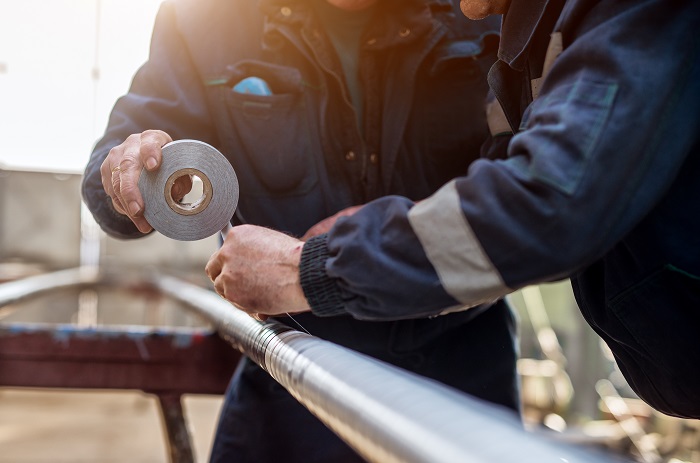 Click here to shop more than 200 styles of 3M duct tape at BHID.com.
Need to patch a leak? Duct tape. Seal a box? Duct tape. Tie back electrical cords? Duct tape. Need to mark a danger zone? You guessed it – bright yellow duct tape. For decades, duct tape has been the quick, reliable, and inexpensive answer to a variety of situations on job sites and in homes. It's waterproof and can hold just about anything together. But what makes this simple tool so strong and effective?
The make-up of duct tape basically comes down to three major components:
Strong rubber adhesive
Strong cotton fabric
Strong backing
The adhesive is created from rubber (extracted from rubber trees) that is mixed with various sticky resins at a temperature higher than 200 degrees Fahrenheit. That sticky combo is then added to the cloth and the backing. Incorporating cloth is what reinforces duct tape's incredible strength and resistance. It makes it possible for the tape to withstand heavy pulling and tearing.
3M™ Heavy Duty Duct Tape 3939, for example, has a tensile strength of 27 lbs., 432 oz/in. Lastly, the backing is made from polyurethane, which is known for exceptional tear-resistance and load-bearing capacity. BlackHawk Industrial, a trusted partner with 3M, offers more than 40,000 3M products at BHID.com.
One of Blackhawk's popular products is the 3M™ Heavy Duty Duct Tape 3939 mentioned above, which is constructed of polyethylene film laminated to cloth with a rubber adhesive. This durable tape resists curling and tears off the roll cleanly for easy application in MRO and construction. It can be used for permanent and temporary applications.
Click here to shop all things 3M at BHID.com.
A Tape with Versatility
Originally developed for heating, ventilation, and air conditioning (HVAC) applications, duct tape is used today in a variety of maintenance, repair, and construction settings. 3M™ Heavy Duty Duct Tape 3939 is an excellent choice for general indoor application in MRO and construction. The tape was tested for flame spread using test method UL723, ASTM E84 and can be used at temperatures as high as 200°F for up to 30 minutes. The sturdy cloth-reinforced tape can be torn from the roll by hand and sticks instantly, providing a wide range of convenient solutions. This tape has a classic silver-colored backing.
For additional questions about 3M Duct Tape sold by BlackHawk Industrial, give us a call. We're happy to help. Our mission is to provide innovative, value-added services and products that reduce our customer's total cost. Feel free to contact us for more information.
BlackHawk Industrial
10810 East 45th Street, Suite 100
Tulsa, Oklahoma 74146
[email protected]
Toll Free: 855-610-1001