Learn How the New 3M Pneumatic Grinders Can Save You time and Money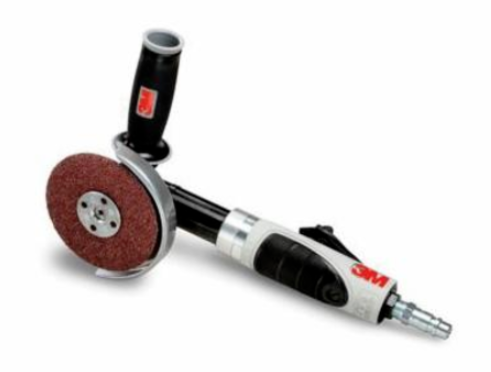 According to 3M their new pneumatic power tools for right angle disc systems are at the top of their class for horsepower, durability, and ease of use. These new power tools give you more power and parts per hour allowing you to increase productivity, saving time and money.
Available in 1 HP and 1.5 HP these grinders are pneumatically powered with a reliable, high output motors. Features include:
High output motors allow for significant pressure without interruption allowing the job to be completed faster.
Heavy duty gear heads for added durability under high force applications.
A special 3M™ Gripping Material enables a firmer hold on the tool, minimizes vibration, and insulates the operator from possible hot or cold touch temperatures.
Grinders are lightweight making griding more comfortable and lowering the occurrence of operator fatigue.
A removable and repositionable side handle allows grinder operation by a right or left hand.
Repositionable steel guards allow for better visibility.
The grinders are available in both standard and extended lengths. Extended lengths work best in hard-to-reach areas, plus it offers a second grip that places the operator's hand further from the grinding area for safer operation. The two grinders are:
4" grinders with a 3/8 - 24" EXT thread commonly used in ship-building and other applications that require smaller abrasives.
4-1/2" grinders with a 5/8 - 11" EXT thread made for metal fabrication applications including grinding, blending, weld leveling, metal prep and pipe notching.
Grinders use Type 27 wheels or discs, with a depressed center. This depressed center enables the flange to sink into the abrasive, so the abrasive may be used for grinding and cutting applications and not risk marring or gouging the workpiece.
BlackHawk Industrial is proud to offer top of the line 3M products. 3M grinders can be purchased right here on the BlackHawk website.
For any questions about 3M products or any other products sold by BlackHawk Industrial, contact us on our website or give us a call Toll Free: 855-610-1001. We're happy to help.
Our mission is to provide innovative, value-added services and products that reduce our customer's total cost. Feel free to contact us for more information.