2021 Virtual Summit: "BlackHawk Strong" continues theme of being the Best in Industrial Products and Equipment Supply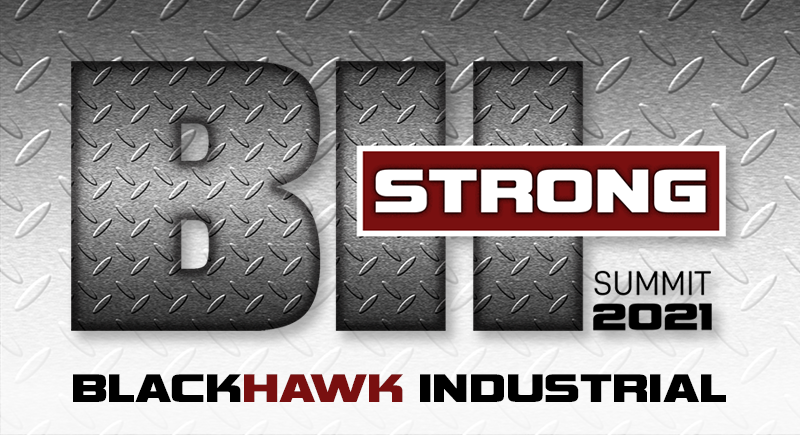 It's a January ritual at BlackHawk Industrial (BHID), the annual BlackHawk Summit must go on. This year, the COVID-19 Pandemic made the meeting a little bit different, but it did go on as the first virtual Summit. This year's virtual Summit asked attendees to test their boundaries and expand their knowledge of manufacturer products, product use and customer service. Techniques on improving these skills featured prominently in the speaker presentations.
The theme of the 2021 BHID Virtual Summit was "BlackHawk Strong". It followed up on last year's "No Matter What!" theme that reaffirmed BHID's four core behaviors of:
Be the Best
Live and Breathe Teamwork
Act with Integrity
Compete Hard
This year's Summit also re-emphasized the "Big Enough to Serve, Small enough to Care" model. BHID consistently focuses on this goal by building local relationships with their customers and manufacturers, while offering the highest quality industrial products, equipment, manufacturing services and innovative engineered supply solutions. The BHID mission statement sums this up in the following, "We distinguish ourselves as the #1 choice for industrial manufacturers who are in need of technical service and production savings. We are their "across the production floor" partner delivering value through product and supply chain performance that lowers their total cost of production."
In past years, vendors hosted booths with new product and application information. This year's virtual event featured vendor-produced videos that highlighted their newest and best products and solutions. This format offered valuable information to the BHID general managers, account managers and customer service representatives.
Need advice on a specific product, technical issue or safety concern? Looking for assistance in lowering total costs? Contact us at BlackHawk Industrial. Our trained experts and supplier contacts will find the right solution for your situation. We're here to help.