BlackHawk Centrifugal Pump: Iron Workhorse
The BlackHawk Centrifugal Pump is no ordinary pump. "Think of it as an oilfield pump on steroids," explained Greg Hibblen, General Manager of Pumps & Services at BlackHawk. "Our pump was built to deliver decades of consistent and dependable performance. Based on field results, it does exactly that."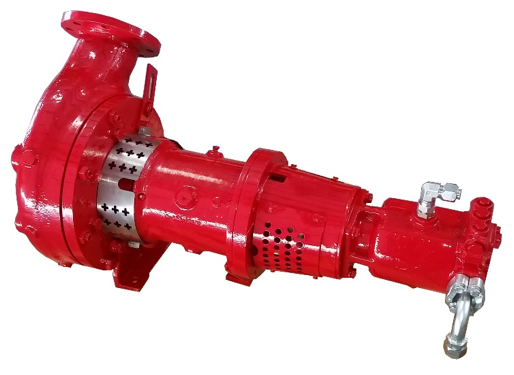 This pump's ruggedness and durability are almost legendary. Designed for the petroleum industry, the pump is ideal for the dirtiest jobs. You'll find it in the oilfields, in waste water operations and wherever sludge slurries need to be moved. The BlackHawk Centrifugal Pump handles fracking, cementing, blending, drilling mud, removing sludge and silt, and much more.
Centrifugal Pump Standard Features
Standard features include:
Oil-lubricated Buna-N lip shaft seals
Ceramic-coated shaft sleeve
Hi-torque 4340 steel shaft
100 bhp frame design
O-ring seals (no gaskets)
Adjustable, heat-treated ductile iron casing and impeller (ASTM A536, Grade 100-70-03)
ANSI 150# flanges
Re-machineable fluid end parts extend pump useful life up to 3X
Built-in hydraulic adapter flange
Centrifugal Pump Design Features
Design features promote wear resistance, versatility and long life:
Open impeller with expeller vanes reduces stuffing box pressure
Both impeller and casing are adjustable for maximum performance
Compact, stout shaft design holds shaft deflection to 0.001" at the stuffing box
Heavy-duty grease lube bearings aid long service life
Hook-type shaft sleeve with hard ceramic coat provides long seal life
Casing and stuffing box wear surfaces are hardened for abrasion resistance, while proven O-ring seal helps eliminate leaky messy gaskets
Discharge can be repositioned in 45° increments without removing the casing by resetting the removable pump feet — no need to adjust impeller and casing clearances
Centrifugal Pump Models
BlackHawk manufactures, sells and services the three basic models of the pump as well as all custom versions. The basic models are:
| | | |
| --- | --- | --- |
| Model 350.205 Series | 4" x 4" x 12" | Up to 750 gpm and 250 Ft. Head |
| Model 350.1240 Series | 6" x 5" x 11" | Up to 1200 gpm and 150 Ft. Head |
| Model 350.202 Series | 8" x 6" x 14" | Up to 2700 gpm and 150 Ft. Head |
Available options include Graphite Packing, Mechanical Seal, Oil Lubricated Mechanical Seal, Oil Lubricated Teflon Lip Seals, Halar Coated Impeller (for corrosive applications) and Hydraulic Motor Adapter. Electric and engine-driven units are also available.
BlackHawk also offers complete pump packages with accessories as well as customized modifications. For example, a configuration of a cementing unit pump with an IEC motor and oil lube mechanical seal lubrication system and oil lube bearings. Contact your BlackHawk Pump Specialist for more information.