BlackHawk Delivers Safety To The Spindle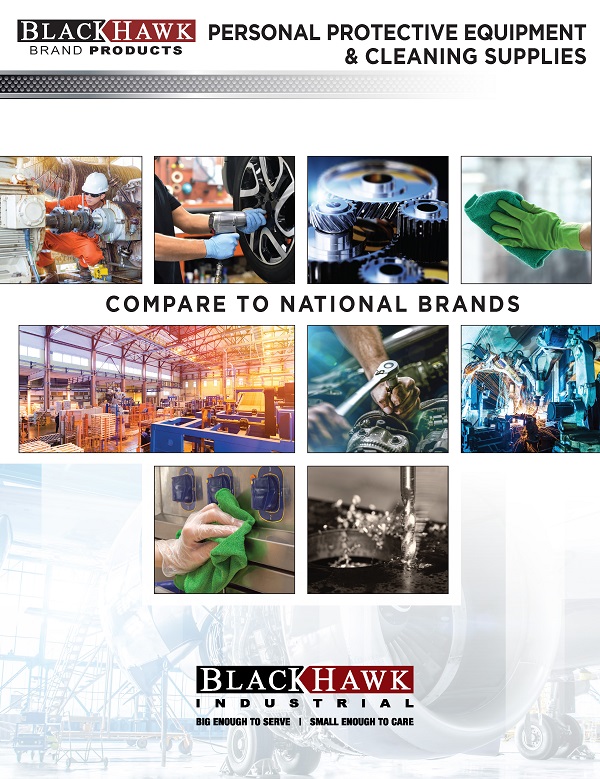 Click here to view and download the new BlackHawk PPE & Cleaning Supplies Catalog
In 2020, COVID-19 carried "workplace safety" into uncharted waters. Personal protection took on new dimensions as social distancing, masking and hand sanitizing became learned behaviors in factories, at jobsites and in offices.
While our collective attention shifted to virus containment, "traditional" workplace mishaps did not go away. In fact, OSHA reported that workplace machine accidents remained among the top ten most reported accidents in 2020. Inadequate safety gear was often cited as the underlying cause.
So, while the pandemic lingers as an undeniable distraction, companies must stay focused on the importance of safety at the spindle, where the risks to workers are the greatest.
BlackHawk for safety at the spindle
With a wide, deep inventory of PPE products from the most trusted brands, BlackHawk is equipped to meet customers' needs. Our supply chain and distribution network are tested and true, so you can work with us, confident in the knowledge that your orders will be fulfilled and delivered when and where you need them.
BlackHawk Brand: Quality and value
BlackHawk Brand PPE offers dependable performance and quality construction at affordable prices. We stock all sizes of the most popular styles of ANSI-rated cut-resistant, coated, reusable and disposable gloves. Gloves are available in nitrile, latex, polyurethane and Kevlar for general, heavy-duty and special use. Glove dispensers allow convenient point-of-use access.
More from BlackHawk Brand
Hearing Protection — Protects ears from unsafe noise levels and vibration. NRR protection from 25 to 32 NRR in assorted shapes. Corded or uncorded.
Wipes — All-purpose wipes keep hands, surfaces, machinery, tools, and parts clean. Premoistened and citrus scented, safe on hands. Different formulations for light/medium/heavy duty use on a range of surfaces such as metal, wood, and ceramics.
Lens Cleaners —Keep your eyewear, lenses, optical devices, and device screens clear with spray cleaners, tissues, and anti-fog wipes.
See more BlackHawk Brand products in our catalog.
National brands: The names you trust
BlackHawk partners include the biggest and most respected names in safety and PPE. We offer the widest range of choices imaginable and can access even hard-to-find items. We're always looking for new and innovative products to keep you at the leading edge of safe work practices. Some of the brands featured in our winter flyer are:
PIP, MCR Safety, Ansell, Sempermed® gloves
Wypall wipers
Scott towels
CLR calcium, lime, and rust remover
GoJo® hand cleaners
DueNorth® traction aids
3M eyewear
Have a safety or PPE product question? Need advice? Contact your BlackHawk rep or call us at 855-610-1001. We're ready to help.
Safe practices pay off
Workplace safety makes a big difference. OSHA reports that US worker injuries and illnesses are down from 10.9 incidents per 100 workers in 1972 to just 2.8 per 100 in 2019. The combined efforts of employers, workers, safety and health professionals, unions, and advocates – along with a greater awareness and commitment to safe practices — has created safer workspaces and saved millions of hours of lost time and millions of dollars in lost productivity. Safety is a smart investment for your workers and your bottom line.