Camping Safety Basics: What to Wear & What Not to Wear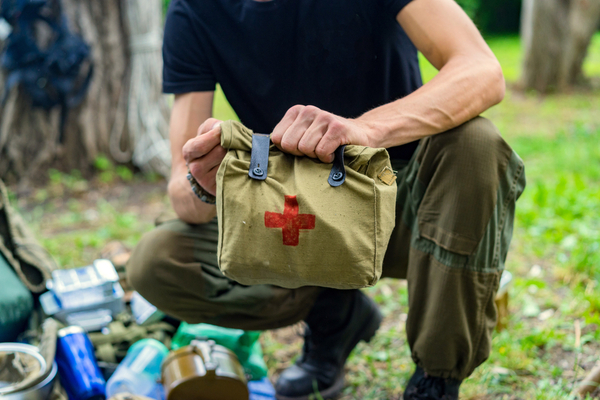 For many of us, summer mean time for camping! Every camping trip will have its specific needs and packing list depending on where you're going and what activities you'll be doing. Aside from your camping basics – tents, sleeping bags, coolers, flashlights, food and water – you'll want to make sure to pack the proper clothing and personal accessories to withstand weather elements and terrain. To maintain safety and comfort, the following are some basics on what to wear and what not to wear when camping.
WHAT TO WEAR
Layered clothing: Temps can fluctuate quickly from day to night or sun to shade. Be prepared to add or remove clothing to avoid heat stroke and hypothermia and to stay comfortable and dry. Pack clothing that can be layered on in case of cold weather conditions, precipitation or wind. Clothing should be moisture-wicking material that will dry quickly if you hike through puddles, sweat or hand-wash your clothing.
Gloves: Hiking gloves, fishing gloves, hunting gloves – pack the type of gloves you need for the activities you're planning. BlackHawk carries Latex Palm Coated Gloves in different sizes. These are good for keeping your sensitivity and dexterity if you don't like wearing bulky gloves, or you can use latex gloves for layering under the other gloves if you prefer.
Good footwear: For proper footing while hiking, your best bet is to wear hiking boots. They'll keep your feet dry and offer better protection against twisting an ankle. The next best option, and perfectly fine if you're doing easy walks on trails, is to wear athletic sneakers. Choose something comfortable and with good support that won't leave you with blisters. If you'll be near water, sandals with secure straps and tread on the bottom are good choices, as well as water shoes.
Sunscreen: Don't let sunburn ruin your trip. Hats, long sleeve shirts and sunglasses provide sun protection when you're not in the shade. Severe sunburns can lead to sun poisoning and you definitely don't want that.
Bug spray: Top yourself off with bug spray or other repellants to avoid mosquitos, ticks and other potentially harmful bugs.
WHAT NOT TO WEAR
Flip flops: These flimsy sandals only offer half an inch of rubber to protect the bottom of your feet. They break easily and are major tripping hazards. Good luck with bug bites, thorns and mud if you're wearing them.
Denim: This material is stiff and cumbersome. If it gets wet, it can take days to dry. Everyone knows wet jeans are the worst!
Dark colors: They absorb the sun and can make you feel overheated. You might not, want to wear white because it will show dirt too easily, but steer toward lighter colors.
Jewelry: Your favorite valuables could get lost or damaged. Leave them safely at home.
Perfume or anything scented – Do your best to keep wildlife away from humans.
For additional questions about Latex Palm Coated Gloves sold by BlackHawk Industrial, give us a call. We're happy to help. Our mission is to provide innovative, value-added services and products that reduce our customer's total cost. Feel free to contact us for more information.
BlackHawk Industrial
1501 SW Expressway Drive
Broken Arrow, Oklahoma 74012
Toll Free: 855-610-1001