Cold Weather PPE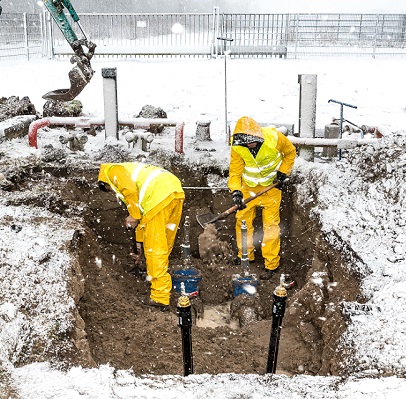 It's happening! The cold weather has found its way and we are barreling through the fall season, full force toward winter. Some parts of the country have already gotten snow and others are seeing below-average-temps for this time of year. That means it's time to talk about cold weather safety and protection gear. OSHA doesn't list specific standards for working in cold environments, however Section 5(a)(1) of the Occupational Safety and Health Act of 1970, does specify that employers should keep employees free from recognized hazards. For this reason, many employers provide their workers with winter weather gear such as winter coats/jackets and gloves.
Section 5(a)(1) of the Occupational Safety and Health Act of 1970
(a) Each employer --
(1) shall furnish to each of his employees employment and a place of employment which are free from recognized hazards that are causing or are likely to cause death or serious physical harm to his employees;
29 USC 654
(2) shall comply with occupational safety and health standards promulgated under this Act.
(b) Each employee shall comply with occupational safety and health standards and all rules, regulations, and orders issued pursuant to this Act which are applicable to his own actions and conduct.
PPE for Cold Weather
So, let's talk about some practical solutions for keeping employees safe in the cold. Start with proper clothing. Encourage employees to layer their clothing for maximum warmth and provide them with gear that will protect their extremities.
Clothing: Layering provides better insulation. The first layer – closest to the body – should be thermal wear made from silk, wood or a synthetic blend which will hold more heat than cotton. The next layer should be another wool or synthetic top for further insulation. The outer layer should be an insulated jacket that offers wind and rain protection.
Hats: Head coverings (hats, beanies, earmuffs and headbands) should cover the ears. Hats keep the whole body warmer by stopping the heat from escaping through the head.
Gloves: Water resistant if necessary, to keep hands warm while ensuring task-specific hand protection.
Boots: Proper winter footwear should be insulated and waterproof to save workers from frostbite. Good soles that provide traction will help workers avoid slipping on snow or ice. Wool socks can be layered under boots for extra warmth.
BlackHawk Industrial is proud to offer various thermal clothing items and accessories for cold-weather protection.
For any questions about cold weather PPE or any other products sold by BlackHawk, give us a call. We're happy to help. Our mission is to provide innovative, value-added services and products that reduce our customer's total cost. Feel free to contact us for more information.
BlackHawk Industrial
1501 SW Expressway Drive
Broken Arrow, Oklahoma 74012
Toll Free: 855-610-1001