Eliminate the Time-Consuming Finishing Pass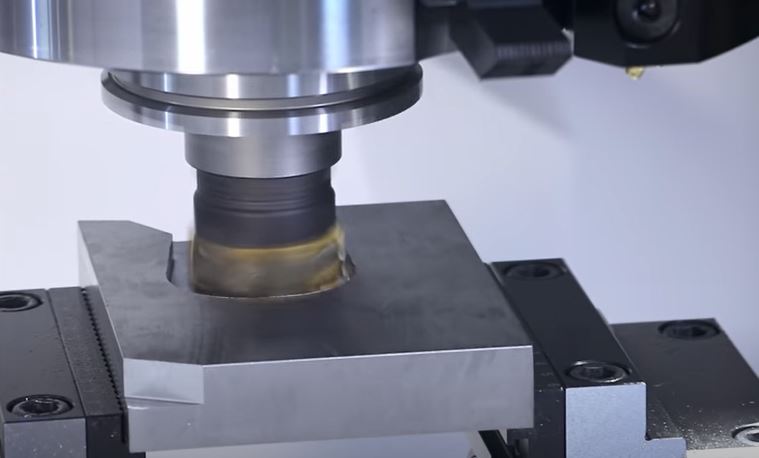 The finishing passes
How many times have you been cutting steel or some other metal and at the end of the job the wall finish is poor because of tool marks left by multiple passes? You can fix the problem with a finishing pass, but that's time you're using to fix the initial job. Just add up those minutes making that last finishing pass on the total wall finishes and you'll find that your shop is using a substantial amount of time.
Kennametal has a solution
Kennametal offers a tool that eliminates the need for a final finishing pass. The Mill 4-15 series is specially engineered to achieve excellent surface quality and higher material removal rates in shoulder milling applications. The design enables multiple passes (stepping down) virtually eliminating the time-consuming finishing pass. Click here to watch the Mill 4-15 in action.
Material applicationsThe Mill 4-15 was made to be used in
roughing and finishing for:
Steel
Stainless Steel
Cast Iron
Mon-Ferrous materials
High Temperature Alloys
Ramping operations and helical interpolation capabilities
The just released Mill 4-15 SGE-R insert adds ramping operations and helical interpolation capabilities. This allows the tool operation to
Gradually increase in depth, preventing any shock loading on end mills.
Reduce costs resulting from unnecessary tool breakage.
Produce smaller chips when compared to plunging, which makes chip evacuation faster and easier.
Decrease cycle time by running the end mill at faster parameters.
BlackHawk Industrial Supply
BlackHawk Industrial is proud to offer top of the line products from Kennametal that can be purchased right here on the BlackHawk website.
BlackHawk Industrial offers a variety of indexable shoulder milling options including solutions from Kennametal We are ready to take your questions and offer expert assistance with your cutting tool questions. Contact us at questions@bhid.com or call us TOLL FREE at (855) 610-1001.
Our mission is to provide innovative, value-added services and products that reduce our customer's total cost. Feel free to contact us for more information.