Fluid products and solutions for your metalworking needs
Metal-cutting professionals know that metalworking fluids are an essential part of the metal working process. Maintaining proper coolant levels saves time and money. Here are a few benefits of using the proper metalworking fluid:
Prolong the life of the tool
Provide lubrication between tool and work piece
Remove chips from the cutting zone
Provide better surface integrity
Provide cooling for the work piece and tool by minimizing thermal stressing and brittle hardening of the tool bit
Prevent corrosion of the work piece and tool
Prevent built-up edge
There are four types of coolant solutions. They are used for different metalworking jobs and have strengths and weaknesses:
Neat Oils
Neat oils are not mixed with water and also known as straight oils. It is primarily used to cut high alloys and other difficult-to-cut materials.
Strengths include:
Excellent lubricity, rust protection and sump life
Easy maintenance
Weakness include:
Poor heat dissipation
Increased risk of fire
Hard-to-clean work pieces
---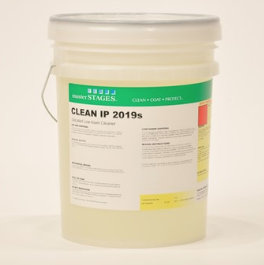 In most cases metal workers will need to clean metal parts with a cleaning solution designed to remove straight oils and coolants. An excellent example of a straight oil lubricant is BlackHawk Industrial's Bonderite Acheson 594526 Multan PL 101 that is used for light forming and can also serve as a ship out rust preventative.
---
Soluble Oils
Soluble oils are macro emulsions or micro emulsions containing more than 30 percent oil. Used in all types of jobs, large to small.
Strengths include:
Combines the lubricating capacity of cutting oils with the cooling ability and low cost of water
Effective lubrication
Increased cooling
Rust protection
Resistant to emulsification of greases and sideways oil
Weaknesses include:
Increased maintenance costs
Susceptibility to rust problems
---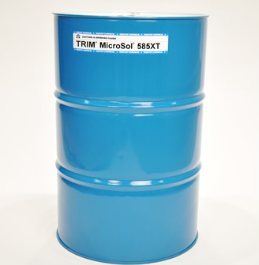 BlackHawk Industrial also offers several semi synthetic fluid options such as TRIM MS585XT/54, featuring a formula that delivers extended sump life and better foam control versus previous generation semisynthetics.
Semi-Synthetics
Semi-synthetics are a "hybrid" of both soluble and synthetic fluids, it is comprised of less than 30 percent oil content. Suitable for large cross-sections and cast-iron applications.
Strengths include:
Allows for microbial control and resistance to rancidity
Slows corrosion
Offers cooling, and lubrication
Provides easy maintenance and long service life
Weaknesses include:
Allows for the possibility of emulsifying oils and forming residues.
Misting, foaming, and dermatitis can be triggered by water hardness
---
Full Synthetics
Full synthetics are true solutions that are detergent like and contain no oil. This solution can be applied on a wide range of machining operations and used for large cross sections.
Strengths include::
Solutions are safer for users and the environment
Offers superior heat reduction
Good protection against corrosion
Longest sump life than other coolant solutions.
Weaknesses include:
Machine interior rust is a risk
May show signs of misting, foaming, and dermatitis
Other coolant solutions have higher lubrication properties.
---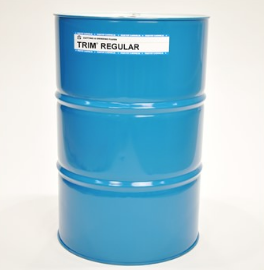 TRIMA REGULAR is another Master Fluid Solutions' product offered by BlackHawk Industrial. It features a synthetic coolant concentrate designed for general machining and grinding of ferrous materials.
Selecting the correct coolant solution for your job can be one of the most important decisions that any professional metal worker has to make and our trained professionals at BlackHawk Industrial are happy to help you with of your solution questions.
We welcome you to contact us here https://www.bhid.com/forms/emailus or call us TOLL FREE at (855) 610-1001. You can also check out our website at https://www.bhid.com/