How to Keep restaurant Employees Safe Around the Grill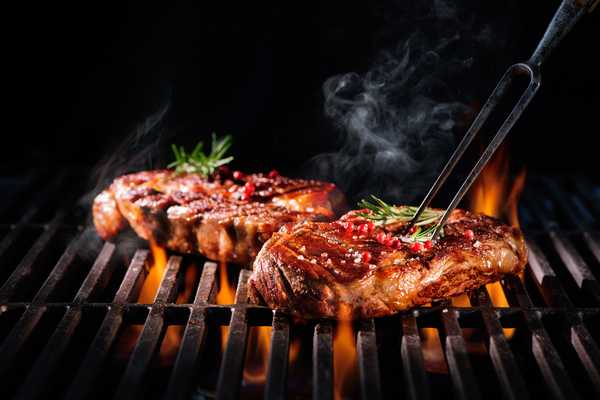 It's Labor Day weekend and I don't know about you, but I'm going to visit some of my favorite Bar-B-Que restaurants. I love that smoky flavor, plus in these days of COVID-19, I'm looking for a place where I can eat outside and many restaurants with an outdoor grill also provide outdoor seating.
As I dream about those succulent slow cooked ribs that melt in you mouth, I remind myself of the amount of work it takes to make them. I've tried and I just don't have the gift of skill or patience to grill/smoke meat to perfection. Add safety guidelines and you have a lot going on for just one menu item and I haven't even mentioned brisket, pulled pork or the American staple of grilled hot dogs and hamburgers.
BBQ Restaurant Risks
As a restaurant owner who employs a grill master or a chef who knows his way around a grill, you know that grilling is risky business. The 2018 AmTrust Financial Risk Report found that employees of BBQ restaurants have the highest days lost (65.9 days) That's double the amount of time of all the other restaurant types. Roughly half of the injuries involving grills are thermal burns.
Grilling Safety Tips
The National Fire Protection Association (NFPA) gives the following safety tips for preventing fire injury or damage:
Propane and char coal BBQ grills should only be used outdoors.
The grill should be placed well away from the building, deck railings and out from under eaves and overhanging branches.
Keep non-grilling employees, customers, children and pets at least three feet away from the grill area.
Clean grill daily by removing grease or fat buildup from the grills and in trays below the grill.
Never leave your grill unattended.
Always make sure your gas grill lid is open before lighting it.
If you use a starter fluid, use only charcoal starter fluid. Never add charcoal fluid or any other flammable liquids to the fire.
Keep charcoal fluid out of the reach of children and away from heat sources.
When you are finished grilling, let the coals completely cool before disposing in a metal container.
Be prepared for an emergency. Always have the correct working fire extinguisher close by and make sure that your entire staff is trained to know when and how to use it.
Grilling Personal Protective Equipment (PPE)
Another detail that is vitally important to keeping your grill staff safe is the proper use of PPE for restaurant work around a hot grill. Items that keep you staff safe include:
Heavy Duty, PVC/Vinyl Bib Aprons that resist chemical, fats, oil and grease. The PIP 200-20001 bib apron is reusable and it offers protection against liquid splash and incidental contact.
Safety Sleeves that offer extended protection against fats, oils and grease. PIP safety products offers the UVB-8HS reusable safety sleeve that gives excellent forearm coverage.
Heat Resistant Mittens that offer enhanced thermal protection. The PIP 42-857 Mittens are double insulated for excellent hand and arm protection
Hair and Beard Coverings to keep potentially harmful bacteria or foreign objects out of your perfectly prepared meal. While we have focused on keeping your staff safe, this point is for the safety of your customers, especially during COVID-19. Stray hairs found in meals can cost you financially and seriously harm your reputation. The PIP UB-1000 and UBC-1000 help to protect your business from anything from a comp meal to a lawsuit.
Contact BlackHawk Industrial for More Information
Our mission at BlackHawk Industrial is to provide innovative, value-added services and products that reduce our customer's total cost. Our PPE professionals are happy to help. You can contact us for more information about PPE at 855-610-1001 or questions@bhid.com.