Kennametal's New KenTIP FS Saves Money and Time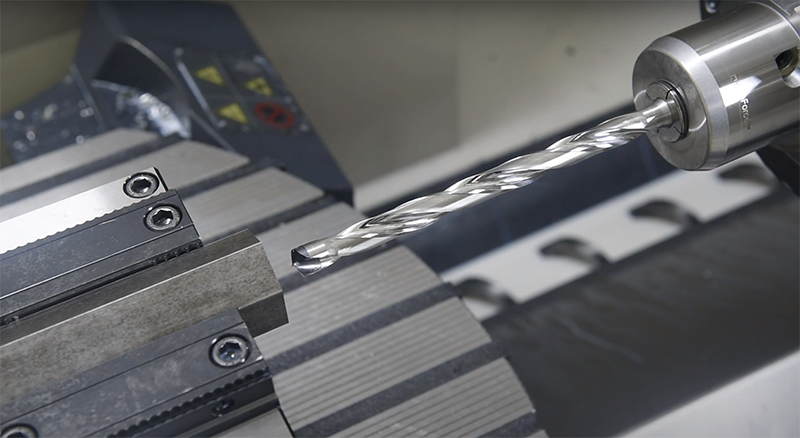 Introducing the new KenTIP FS
Kennametal's engineers are known for introducing new products that transform manufacturing, and the new KenTIP FS modular drill follows that engineering legacy. According to Alexander Schmitt, Senior Global Product Manager for Modular Drilling at Kennametal, "The KenTIP FS not only looks like a solid carbide drill; it also works like one. So, you can think of it as a fusion of solid carbide's best characteristics together with the cost-effectiveness of indexable drilling tools."
Improving the KenTIP
The engineers at Kennametal started out by reviewing the KenTIP and identified areas where they could improve on this core drilling platform. These new improvements include:
New pocket seat with reduced stress peaks.
Insert through coolant design.
Ultra-polished spiral flutes.
All new geometries and grades for steel, cast-iron, and stainless steel.
How does the KenTIP FS save manufacturers time and money?
So, what is the benefit to using KenTIP FS? The key benefits are higher productivity and less downtime. In other words, manufacturers can save money on both labor and tool costs. Specifically benefits include:
Four coolant exits nearly double coolant volume compared to central channel layout. 40% higher compared to the competition.
Obstruction free evacuation even in long chipping material and deeper holes.
Less washout and longer holder life.
Widens the application range for modular drills. Available for holes down to 6mm.
Insert changes can be done in the machine tool without detaching the holder.
A changed insert is automatically pre-measured, set-up and programed.
Drilling in stainless steel available with front clamped KenTIP FS.
Inserts for carbon fiber reinforced plastics (CFRP)
This advanced material is widely used in manufacturing aircrafts because of their unique mechanical and physical properties. It's a popular composite material that has the right mix of weight-to-strength ratio, durability, and extreme corrosion resistance making it ideal for the manufacturing of aircraft hulls and wings. Below are two featured CFRP inserts developed by Kennametal.
SPF Insert for carbon fiber reinforced plastics (CFRP)
Important benefits of the SPF insert for CFRP include;
Double angle geometry with 128° and 90° point angle to avoid delamination.
Through coolant.
Diamond coating for the best tool life.
DAL insert for CFRP Stacks
Important benefits of the DAL insert for CFRP Stacks include:
For CFRP stacks with metal exit, non-ferrous materials and titanium.
Double angle geometry with 128°and 155°point angle to minimize exits burrs.
Through coolant.
Diamond coating for the best tool life on CFRP stacks.
Uncoated for cost efficient aluminum machining.
BlackHawk Industrial is proud to be a supplier of Kennametal products. Our mission at BlackHawk Industrial is to provide innovative, value-added services and products that reduce our customer's total cost. Our professionals are happy to help. We welcome you to contact us by email at questions@bhid.com or call us TOLL FREE at (855) 610-1001