Kennametal KSEM PLUS Modular Drills: High Output at Low Cost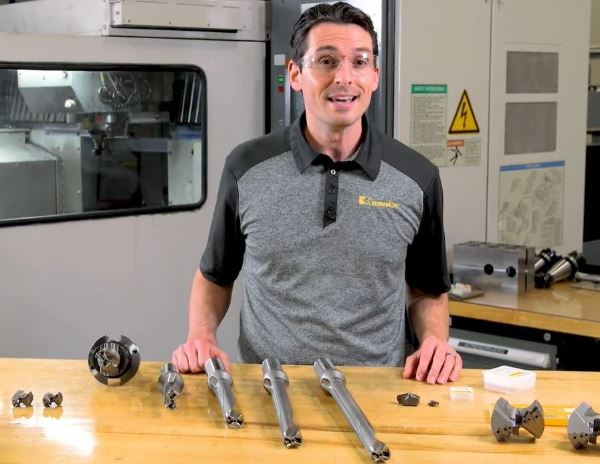 For manufacturers and MRO facilities, Total Operating Cost (TOC) is a key factor in the bottom line. Shaving even a few cents per piece can make a significant difference in profitability. Tools with multiple uses become favorites on the floor and in the accounting office.
Modular drill systems are widely used because of their versatility and convenience. They allow high productivity with fewer tool changes, saving money and time.
One example for large-diameter drilling is the Kennametal KSEM PLUS Modular Drill System. KSEM PLUS combines the benefits of modular drills and indexable drills.
Modular advantages: High feeds, high length-to-diameter rations (L/D)
Indexable advantages: High speeds, low consumables costs)
See the Kennametal KSEM PLUS in action here.
Applications
KSEM PLUS is designed for steel, cast iron, stainless steel materials in the diameter ranges of 1.102 to 2.756 inches (28 to 70mm) from 3 to 10 x D. For example, KSEM PLUS is ideal for large-diameter energy market jobs such as manufacturing bearing rings for windmills.
Features and Benefits
KSEM PLUS features a replaceable head with newly designed FDS interface coupling. One tool body can be used for different sizes of drill heads. Drill heads can be replaced without removing the tool body from the machine.
KSEM PLUS has two effective cutting edges that deliver higher metal removal rates than comparable indexable drills. Productivity is as much as 100% better than with indexables.
The center insert with HP delivers feed rates like other modular drills but with longer tool life and no chip flow obstruction. Anything less than 8 x D L/D does not require precentering.
DFT/DFR™ outboard inserts allow for higher speeds than other modular drills with greater stability, better surface finish and hole diameter accuracy.
For more information on Kennametal products, now available nationwide from BlackHawk, contact your BlackHawk representative at 855-610-1001 or shop for Kennametal products at BHID.com.