Learn How Pioneer Cutting Tools for Metalworking Solves Problems at the Spindle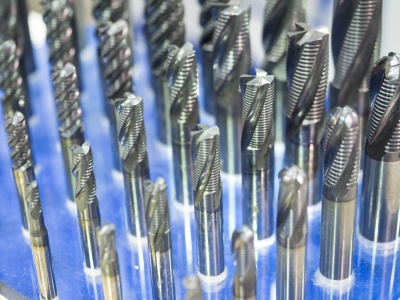 As a BlackHawk Industrial corporate brand, Pioneer Tool offers premium quality metal cutting for precision machining. Pioneer offers both 100% American made metalworking tools and superior customer service. This includes:
Just in Time Inventory - No minimum orders, competitive pricing and most ship next day. Stock inventory is kept high to ensure that the tool that you need can in most cases, be in your hands within two to four days or less.
Technical and Customer Support - Pioneer and BlackHawk Industries believe in training their representatives in the latest technology that allows them to give the highest technical support and customer service needed at the spindle.
Reconditioned Tool Service - BlackHawk Industrial offers tool reconditioning through its X-Press Tool Service. Their dedicated skilled technicians restore Pioneer tools ready to perform even at the most exacting standards.
High-performance carbide end mill
Over the years indexable tools have shifted from high speed tools to high-performance carbide tools. Pioneer's product line has continued to grow with the market. One stand-out product line is the high-performance carbide end mills. these end mills combine variable index geometry with a harmonics shifting flute configuration that gives minimal chatter and completes the job with an exceptional finish. This Pioneer indexable tool group features include:
Designed to be used in Alloy Steels, Inconel, Cast Iron, Titanium, Stainless Steel, High Temp and all other
High Performance, chatter free machining provides versatility in use for all ferrous materials
Available in 4, 5 & 6 Flute - Stub, Regular, Long and Extra Long Lengths
Available in Square End, Ball Nose and various Corner Radius sizes
Eccentric Relief on the cutting edge provides enhanced edge strength
Post polished AlCrO-MAX coating covers a wide range of materials
Used in all slotting, roughing, profiling and finishing applications
exotic materials up to 50HRc
Enables higher SFM and heavier chip loads
Recommended for slotting up to 1 x Diameter
Made in the USA from premium micrograin carbide
Pioneer Tools, a supplier of cutting tools for metalworking to the automotive, aerospace, defense, medial, firearms, communications and woodworking industries is sold exclusively by Blackhawk Industrial. Contact us for more information and/or technical support at https://www.bhid.com/ContactUs. You can also find the latest downloadable Pioneer Tool's catalog here.