New Gadget Makes Pallet Strap Threading Much Easier
At BlackHawk, we get excited about big tools AND small tools! Sometimes, innovations come as cutting-edge, sophisticated, highly-specialized parts such as the CoroTurn Prime Twin tool holder. Other times, they come in smaller, cheaper packages that pack just as much of a punch. That's what we love about the new MUL-SB Flexible Pallet Strap Feeder. It's a simple, inexpensive gadget that makes a daily task much easier.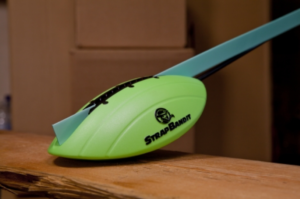 Made by Teknika, StrapBandit is a flexible pallet strap feeder that securely holds your plastic or corded strapping and allows you to thread it under a pallet without having to squat or bend down. For years, workers have been using home-made sticks to push the threading underneath, but it still means crouching down. Sometimes those sticks get stuck or the threading falls off before it makes it to the other side. This tool can be used from a standing position and will glide under the pallet without getting stuck. Watch the 38-second video. The Teknika MUL-SB Flexible Pallet Strap Feeder is available through BlackHawk. Contact your Account Manager today or order online!