New Seco GL25 Threading and Grooving Heads Improve Deep-Hole Machining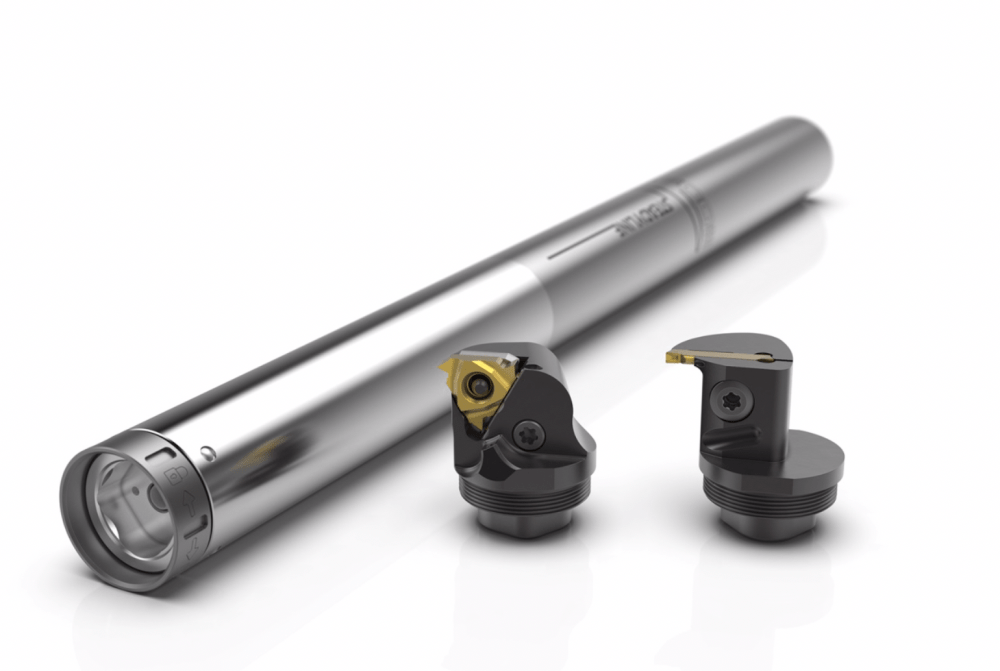 Seco Tools has announced two new threading and grooving heads that should improve deep hole operations and reduce the risk of scrapping large, expensive workpieces. The new GL25 threading heads made for Steadyline® turning and boring bars are designed to increase production accuracy, improve high-quality surface finishes and reduce down time related to insert indexing and head changing.
Seco's Steadyline® turning bars are known for having the most-effective vibration damping system in the industry for easy turning and boring to depths up to 10xD on small and large holes.
The specifics:
For operations inside deep hole diameters as small as 30 mm, the compact new GL25 heads add stability up to 10xD with the high repeatability of the Seco GL25 connection on Steadyline® ø25 mm (1") bar diameters, assuring that shops can take advantage of the system's reach/overhang capabilities and highly effective anti-vibration technology. The GL connection with optimized wall thickness achieves centering accuracy and probing repeatability within 5 µm, offering increased operational versatility and faster and easier tool changes. Seco Tools designed these new GL25 threading heads for integration with Seco Jetstream Tooling® high-pressure coolant capability.
The new compact Seco GL25 heads are offered in right-hand and left-hand versions to produce holes with accuracy, repeatability and with superior surface finish.
The new Seco GL25 heads:
Increase production accuracy, improve surface finishes and reduce downtime from insert indexing and head changing
Are compact heads that provide high repeatability of the Seco GL25 connection
Come in right-hand and left-hand versions
For any questions about Seco parts or any other products sold by BlackHawk, give us a call. We're happy to help. Our mission is to provide innovative, value-added services and products that reduce our customer's total cost. Feel free to contact us for more information.
BlackHawk Industrial
1501 SW Expressway Drive
Broken Arrow, Oklahoma 74012
Toll Free: 855-610-1001