Smooth Those Hard-to-Reach Areas with this Mini Sander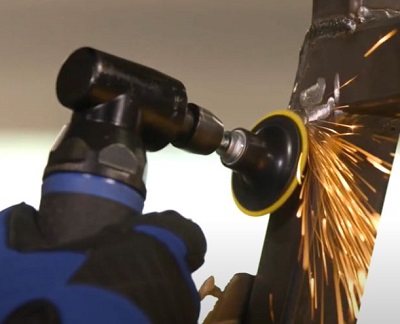 When finishing touches call for a mini sander, the Norton Mini Angle Sander is one of our top picks. These 2" and 3" sanders are small enough to get in those hard-to-reach areas and powerful enough to finish the job fast and efficiently.
Key applications include:
Deburring
Sanding
Blending
Finishing
The Norton Mini Angle Sander allows you to get into smaller areas with more precision and finesse. The tool is so light, it can be used with one hand, so your other hand is free to use. You can buy a single 2" sander, a single 3" sander, or a kit with either a 2" or a 3" sander, along with compatible blaze discs, medium grit non-woven discs, and a back-up pad.
Features and benefits:
A double-bearing spindle generates superb concentricity reducing vibrations allowing for longer use and finer finishes.
Finesse your projects by having the ultimate control in both precision and power with the speed regulator.
Get better tool handling along with reducing additional fatigue with the ergonomic and streamlined non-slip grip.
See the Mini Sander in Action
If you want to see the Norton Mini Angle Sander in action, we recommend this YouTube video of Gregg, a welding instructor at Worcester Technical High School in Worcester, Mass. He provides a great demonstration of how to set up and use the Norton mini angle tool.
In this video, Gregg shows how to put your mini drill together. His instructions: Start by putting in the arbor. You can use the small wrenches that come with the kit to fasten in the arbor. Next, screw on the arbor head. After that, you're ready to put the heads on. The backs of the heads are threaded and can be attached by hand. Last, put the air chuck in.
Once you're ready to do some sanding, you can use one of the high-grit sanding discs to take off stock, and then use one of the non-woven discs to shine the piece. A flap disc can do a little bit of both. It takes off stock and shines material at the same time. For a more finished, shined-up look, you'll want to choose a woven disc from the kit.
Safety First!
The Norton Mini sander may be smaller, but it still spins at 25,000 RPMs so wear your eyeglasses and an eye shield to protect your face. Add earplugs to protect your hearing. You don't need big gloves for this small grinder, just make sure they're suitable for welding. We also recommend wearing a long sleeve flannel shirt or something made of a thicker material. Turn your shirt collar up to protect your neck.
For additional questions about Norton Mini Sanders sold by BlackHawk Industrial, give us a call at (855) 610-1001. We're happy to help. Our mission is to provide innovative, value-added services and products that reduce our customer's total cost. Feel free to contact us for more information at [email protected].