The Norton Winter Paradigm Is a Game-Changer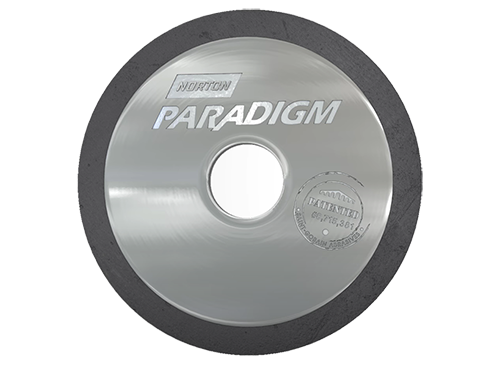 What's new in abrasives? Norton Winter Paradigm. Ok, the Norton Winter Paradigm – released in 2018 – is not actually a new product, but it might be new to some of you who haven't tried it. Norton Abrasives promises that this diamond grinding wheel is a game changer for precision grinding of non-ferrous materials. Paradigm is designed to combine the form holding and wheel life of a metal bond wheel with the dressability and free-cutting action of vitrified.
Recently, a reputable manufacturer in the aerospace and automotive industry found a way to bring both costs and cycle-time down by making a simple change in abrasive wheels.
Improving Productivity – A Success Story
The Need: A major manufacturer of aerospace and automotive components was looking for a way to improve productivity by optimizing its grinding process on nickel-chromium alloy (HVOF) steel rods. So, the manufacturer decided to give the Norton Winter Paradigm wheel a try.
The Method: The manufacturer had been using incumbent D120V (vitrified diamond) to grind HVOF on a Landis Flex grinding machine, using oil-based coolant and a wheel that was 1A1TSA 30" X 2" X 12". They made the switch from the original incumbent wheel to a Norton Winter Paradigm wheel SD320-D168-P100A-1/2".
The Results: The manufacturer saw that the Norton Winter Paradigm wheel outperformed the original incumbent wheel in cycle time, parts per wheel and cost per part – all this while also giving a better surface finish. Cost per part went down 16%. Wheel life went up 40% and cycle time went down 23%. The company was able to eliminate re-work, optimize grinding processes and achieve a robust and consistent process while reducing overall cost with the Paradigm wheel.
Norton Paradigm wheels deliver:
Free-cutting with up to 46% natural porosity
Burn free grinding with high thermal conductivity
Truing and dressing on-machine in plunge or traverse modes
Made to your precise requirements with large ranges in specs available
Visual Demonstration
If you want to see the Norton Winter Paradigm in action, take a look at this training video which will show you how to use the Norton Paradigm wheel to optimize Tungsten Carbide flute, gash and end‑teeth grinding.
BlackHawk Industrial is proud to offer top of the line brands like Norton abrasives which can be purchased right here on the BlackHawk site.
For any questions about Norton products or any other products sold by BlackHawk, give us a call. We're happy to help. Our mission is to provide innovative, value-added services and products that reduce our customer's total cost. Feel free to contact us for more information.
BlackHawk Industrial
1501 SW Expressway Drive
Broken Arrow, Oklahoma 74012
questions@bhid.com
Toll Free: 855-610-1001