One Quick Seal: Water-Activated Tape Does It with a Single Strip
Water-activated paper tape is one of the quickest, easiest and most reliable sealing materials on the market.
Unlike plastic tape, water-activated tape seals the ends of a box with just one strip, creating a secure seal in less time. Gummed tape also avoids the potential waste and mess of plastic tape that can inadvertently fold and stick to itself.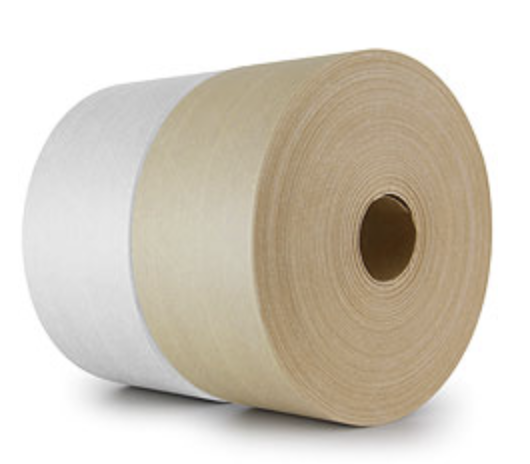 Water-Activated Tape, also known as gummed paper tape, gum tape or kraft paper tape, is reinforced with crossing fibers and an adhesive that "welds" to corrugate boxes, reducing shrink and theft. It bonds instantly to both virgin and recycled fiber surfaces, creating an immediate "destructive bond" for a tamper-evident package.
Intertape Polymer Group (IPG) offers paper tape in both fiberglass-reinforced and plain paper with many styles available in standard prints or customized prints to display your corporate message.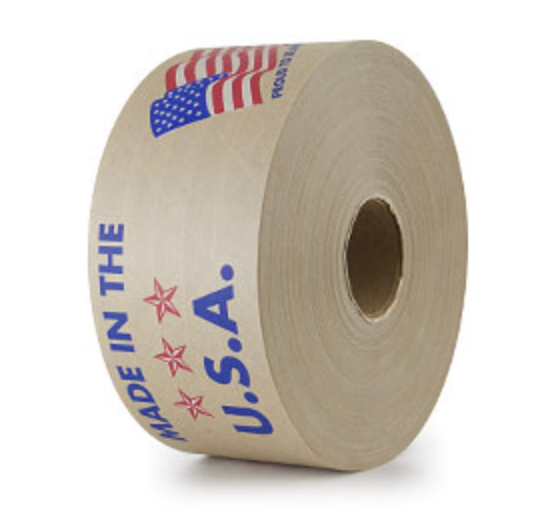 What's the difference between standard tape and water-activated tape?
Standard paper tape provides fast, permanent adhesion and superior strength. It has excellent flexibility for sealing carton corners, edges and irregular surfaces. Standards tapes are for sealing lightweight or standard sized packages or cartons that will be shipped in unitized loads or full pallets. Reinforced paper tape provides consistent performance in carton sealing applications where durability, extra strength and reliability are required. Extra strong fiberglass yarns are bonded between the high tensile strength sheets for an extra margin of strength. All IPG tapes feature:
Secure bond – starch- based adhesive aggressively bonds to corrugated cartons, even in dusty or dirty environments
Custom printed – advertise your company and products; provide directions for freight handlers and improve the appearance of your package
All-weather use – not affected by extreme hot or cold temperatures
Protection – carton sealed with water-activated tape can't be opened without leaving a broken seal
Tapes are designed for light, medium and heavy duty packaging. Preprinted styles are available (FRAGILE, CAUTION, WARNING, MADE IN USA) and many are customizable.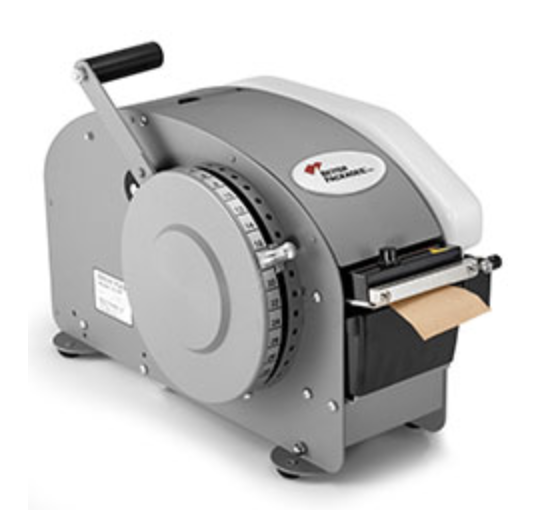 Tape dispensers: an indispensable solution
IPG also offers state-of-the-art tabletop water-activated tape dispensers to make taping and sealing operations neat and efficient.
TapeShooter 404® — Manual, lever activated, uses 35 lb. non-reinforced tape; ideal for supermarkets, florists, delis, pizza shops, bakeries and mailrooms.
Better Pack® 333 Plus — Rugged manual unit for light-to-medium volume packing areas; accepts reinforced or non-reinforced tape.
Better Pak 500/500M — Medium-to-high volume packaging, especially random-sized cartons. Electronic with 14 presets.
Better Pack 555e Series — High-volume packaging; electronic with auto tape advance and automated production options.
Better Pack 755eS/755eM — Fast-paced sealing of random-sized cartons; 20 presets; excellent for shipping heavy or large items.
IPG has been an innovative leader in packaging process solutions for more than a century. More tape and packaging supplies are available from Blackhawk and our subsidiary
Click here to view our selection of water-activated tape.
Click here to view our selection of tape dispensers.
Tape and tape dispensers, can easily be purchased on the BlackHawk Industrial web site. For any questions about CNC accessories or any other products sold by BlackHawk, give us a call. We're happy to help. Our mission is to provide innovative, value-added services and products that reduce our customer's total cost. Feel free to contact us for more information.
BlackHawk Industrial
1501 SW Expressway Drive
Broken Arrow, Oklahoma 74012
Toll Free: 855-610-1001