Tools to Use with High-Hardness Steels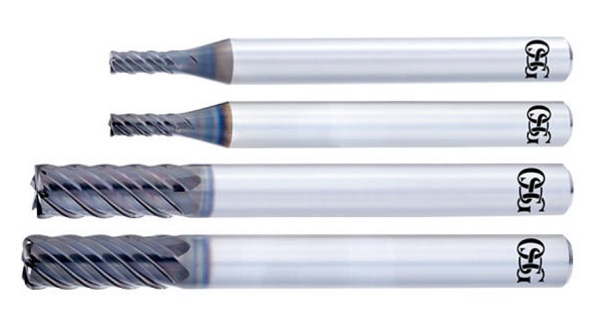 High-hardness steels are used from everything from high quality knives and scalpels to armored vehicles and aircraft landing gear. Every day, more high-hardness steels find there way into our everyday life. These materials are known for their performance, not for being easy to machine.
OSG launches a new A-Brand tool
With the upsurge in uses for high-hardness steels, OSG Corporation just launched the AE-MS-H and AE-MSS-H Carbide end mills to fill the need. These new multi-flute square and radius-type end mills are part of the OSG A-Brand, a class of tools composed of OSG's latest high-performance threading, drilling and milling innovations.
These multi-flute square and radius-type end mills were specifically designed for the stable and high-efficiency milling of high-hardness steels. Click here to watch the AE-MS-H and AE-MSS-H end mills in action.
A unique coating makes it tougher and less expensive to use
Adding to the overall performance is the OSG Durorey coating, uniquely engineered to offer superior heat resistance and high toughness. Testing resulted in approximately 60% reduction in wear vs. conventional coating, given the same cutting length. High-chipping resistance is observed even in work materials exceeding 60 HRC, giving the operator something that you don't see together often, long tool life and high-speed milling.
Metal applications
The end mills make easy work with applications such as:

Carbon Steel
Alloy Steel
Tool Steel
Pre-hardened Steel
Hardened Steel
Stainless Steel
Cast Iron
Ductile Cast Iron
Copper Alloy
Aluminum Alloy
Titanium Alloy
Heat-Resistant Alloy
More features
Other important features include variable lead geometry that suppresses vibration and optimal cutting-edge specifications to enable stable machining of high-hardness steels.
Product lineup
The product line-up includes:
AE-MSS-H-Stub type
1.5 x D cutting length (neck length 3 x D) φ3×9~φ12×36
AE-MS-H-Short type
Square type φ1~φ12
Radius type φ3×R0.2~φ12×R3
BlackHawk Industrial Supply
BlackHawk Industrial is proud to offer top of the line products from the OSG Corporation that can be purchased right here on the BlackHawk website.
Contact BlackHawk for more information
BlackHawk Industrial offers a variety of end mill options including solutions from the OSG Corporation. We are ready to take your questions and offer expert assistance with your cutting tool questions. Contact us at questions@bhid.com or call us TOLL FREE at (855) 610-1001