New from OSG: HY-PRO CARB® VGM Series Variable Geometry End Mills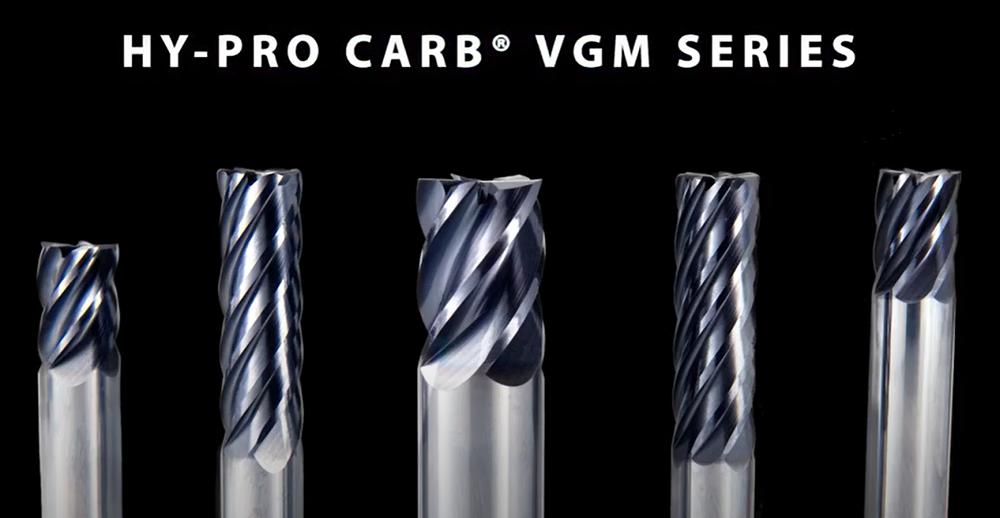 OSG introduces a new line of end mills developed for greater efficiency, smoother cutting and longer tool life.
The HY-PRO CARB VGM Series is intended for steels, stainless steels, cast iron and exotic materials. Its hallmark feature is a variable index — unequal flute spacing that reduces vibrations during machining by altering the timing of each flute engaging in the workpiece. The design is more rigid with less chatter and results in more efficient performance. Cutting geometries are exceptionally sharp to handle steel varieties with consistency. High helix angles allow for stable cutting at lower forces.
For greater wear heat and resistance, HY-PRO CARB VGM has an EXO® coating — a proprietary multi-layered finish that performs better than traditional TiAIN coatings.
OSG offers HY-PRO CARB VGM in 5- and 7-flute styles (VGM5 and VGM7), with a 6-flute version (VGM6) coming soon. Each style is available in a range of sizes with multiple lengths of cut and square and corner radius variations.
HY-PRO CARB VGM mills have been tested for stable performance in a wide variety of conditions. Watch the HY-PRO CARB VGM in action cutting and shaping 1045 steel.
Other Featured OSG Products from BlackHawk
Spiral Point 105 General-Purpose Gun Taps — For ferrous and nonferrous materials.
NPT Taper Pipe Taps (108) — Clean threading for ferrous and non-ferrous stock.
A Brand® A Tap Spiral Flute (16505) — For any material or application.
Carbide End Mills — Bright and TiAln coated.
EXOCARB® AERO BLIZZARD® End Mills — For maximum chip removal in aluminum. Offset teeth for deep cuts.
To learn more about these and other OSG products, contact your BlackHawk sales representative, or call us toll-free at 855-610-1001.
WARNING! When grinding or regrinding industrial cutting tools, residual grinding dust may occur. This dust may contain chemicals known to the state of California to cause cancer, birth defects, or other reproductive harm. For more information go to www.P65Warnings.ca.gov.