Product Spotlight: WypAll Wipers
BlackHawk Industrial is proud to carry the best products around. From cutting tools to abrasives, safety products to janitorial supplies, and everything in between, we provide the highest quality industrial products and equipment.
One of our best sellers is WypAll Wipers. We love this item because it's a small product with a big impact. These disposable industrial wipes are relatively inexpensive but they can dramatically change the quality of life for industrial workers as well as boost productivity in the workplace.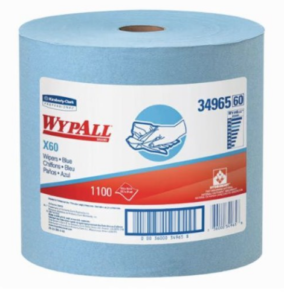 According to a study featured in the New York Times a few years ago, more than 200,000 workers suffer from chronic ailments due to exposure to toxic workplace air every year. What's worse is that an additional 40,000 workers die each year due to long-term exposure to toxic substances at work. Many industrial warehouses use cotton rags and cleaning solvents to remove tough contaminants like dried paint, sealant, and caked-on dust.
Even rags that have been repeatedly laundered still contain contamination. After several washes, shop towels that have been used to clean work sites, will still contain bits of lint, toxins and heavy metals. Besides risk to workers, substances on rags that aren't removed during the laundering process, may be dissolved into the solvent and transferred to the surface. Whether it's a surface that's being cleaned or receiving a solid application, foreign substances can create quality defects costing time and money. WypAll wipes leave three times less lint than a shop towel, which can help reduce contamination in the process. See WypAll video of contamination in rags vs. Wypall wipes.
From wiping up grime to soaking up spills, effective cleaning is essential to operations. It starts with giving workers exactly the right wiper for the job - whether it's heavy-duty parts cleaning - or a delicate task in the lab.
WypAll wipes provide quality and usability. They bring the absorbing power of HydroKnit technology (for superior absorbency) to a lighter-weight cloth. These disposable wipes don't use adhesives or binders, so they'll leave no residue behind, and they're reinforced for strength when wet or dry. They can be used for applying thinners and solvents, in cable lubricant removal, adhesive cleaning and removing grease and soil in tight areas.
WypAll wipers improve productivity, with no extra wipes or effort needed to complete each task. These disposable shop rags are ultra-absorbent and take care of your messiest jobs safely and efficiently. They absorb twice as fast as rags, absorb 30 percent more water than shop towels and absorb more oil than shop towels or rags.
A long list of WypAll products can easily be purchased on the BlackHawk Industrial web site. For any questions about WypAll Wipes or any other products sold by BlackHawk, give us a call. We're happy to help. Our mission is to provide innovative, value-added services and products that reduce our customer's total cost. Feel free to contact us for more information.