Reduce Employee Back and Leg Pain with rubber floor mats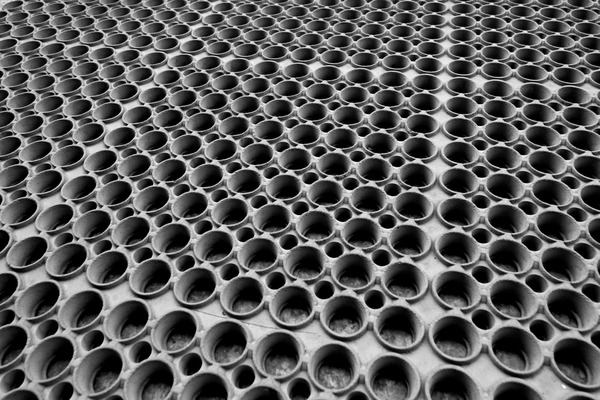 From sore legs to back pain, standing for long periods at work can wreak havoc on the body. The Occupational Safety and Health Administration (OSHA) doesn't have any specific regulations or standards for addressing this type of work injury, but it's still one that should be taken seriously. Lower back pain is one of the most common complaints for seeing a doctor and the leading cause of disability leading to missing work.
Cashiers, production line workers, mechanics, dental hygienists, mail sorters, pharmacists… are just a few of the types of employees who deal with being on their feet in the same position for several hours at a time. Standing on hard unyielding floors like tile or cement all day is particularly hard on the body. One easy fix is to give each employee a rubber mat to stand on. When a person can stand on a cushioned rubber mat, it helps prevent feet from absorbing all the resistance of a hard floor surface and lets workers work without the distraction or discomfort of soreness. Standing in one place for hours can also change the distribution of blood in extremities, sometimes leading to issues with veins such as varicose. Anti-fatigue mats can help reduce the strain on joints and muscles leading to poor circulation.
Anti-fatigue mats are gentler on workers feet. The softer floor coverings reduce fatigue, offer workers some relief and keep them from missing work due to back and leg pain.
RECOMMENDED ANTI-FATIGUE MAT
One anti-fatigue mat we recommend is the Ergo Trax™ Grande™
The Ergo Trax™ Grande™ is a thicker, heavier and stronger anti-fatigue floor mat. Engineered to meet the toughest requirements of today's industrial applications and is particularly suited for multi-shift operations in dry work areas. At a full ONE-INCH thick, it is the ultimate anti-fatigue product maximizing worker productivity and comfort. The durable vinyl diamond-plate top surface design provides non-directional traction and is easy to clean. The top surface is combined with a Niru® rubber sponge base utilizing NoTrax® exclusive UniFusion™ technology that virtually eliminates the possibility of de-lamination. The sloped beveled edges reduce tripping hazards and allow easy access on and off the mat.
Heavy duty vinyl top surface combined with Niru® rubber base provides superior durability and traction
Niru® rubber foam base provides high friction to reduction in mat movement
Vinyl top surface is made of 100% recycled materials
UniFusion™ bond guaranteed for the life of the mat
Beveled edges on all 4 sides
Available Colors: Black; Black/Yellow
WARNING: This product can expose you to chemicals including di-2-ethylhexyl phthalate and/or diisononyl phthalate which is known to the State of California to cause cancer, birth defects or reproductive harm. For more information, visit www.P65Warnings.ca.gov
For additional questions about rubber floor mats sold by BlackHawk Industrial, give us a call. We're happy to help. Our mission is to provide innovative, value-added services and products that reduce our customer's total cost. Feel free to contact us for more information.
BlackHawk Industrial
1501 SW Expressway Drive
Broken Arrow, Oklahoma 74012
Toll Free: 855-610-1001