Do You Need to Replace Your Industrial Fluid When Reopening After a Holiday?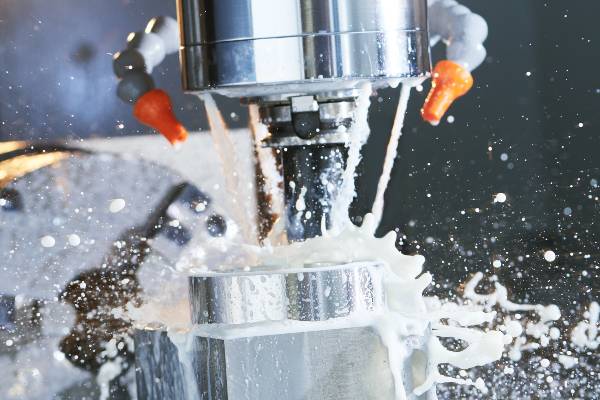 Now that we're all going back to work after the long holiday weekend, you may find that the coolant has an unpleasant smell most likely attributed to anaerobic bacteria. According to Master Fluid Solutions, a leader in specialty cutting and grinding fluids and cleaning compounds in the metalworking industry, bacteria are major contributors to coolant failure. They chemically alter coolants and destroy the lubricants and corrosion inhibitors in the process. Other problems caused by using a coolant past its prime include:
Employees showing signs of lung and/or skin irritations.
Excess Tramp Oil present in fluid.
Tools give out and/or machines are rusty.
Keeping coolants in top condition.
Master Fluid Solutions suggests that metal workers perform the following to keep coolants in top condition:
Manage concentration levels.
Use proper filtration.
Remove tramp oil promptly.
Keep fungus and bacteria in check.
Clean machine sumps regularly.
Should you flush the system?
If you are still experiencing one or more of the problems mentioned above beyond what would be considered usual for normal usage, then it could be time to not only change your fluid, but to flush the hydraulic system and change your fluid type.
Customer findings of those who switched from their existing synthetic coolants to the Master Fluid Solutions' TRIM cutting fluids include improved sump life, increased foam control, better filtration capability, stronger tramp oil rejection, and reduced carry off. Many of the products in this line also have the multi-metal compatibility required by the HVAC manufacturing industry. This is especially significant now, during our current national heat wave. Another important detail is that several TRIM fluids meet the requirements of the ASHRAE 97 standard sealed tube tests plus Master Fluid Solutions offers additional individualized manufacturer tests to customers who request further information.
BlackHawk Industrial Supply
BlackHawk Industrial is proud to offer top of the line products like TRIM cutting fluids that can be purchased right here on the BlackHawk website.
Contact your BlackHawk Industrial fluid specialist for assistance
Contact your local Blackhawk Industrial Account Manager Fluid Specialist for recommendations on your particular system. BlackHawk Industrial offers many solution options including Master Fluid Solutions. We are ready to take your questions and offer expert assistance with your fluid exchange needs. We are happy to arrange a visit to your facility. Contact us at questions@bhid.com or call us TOLL FREE at (855) 610-1001.
BlackHawk's Mission
Our mission is to provide innovative, value-added services and products that reduce our customer's total cost. Feel free to contact us for more information.