No Holds Barred: TENDO E Compact Toolholders from Schunk®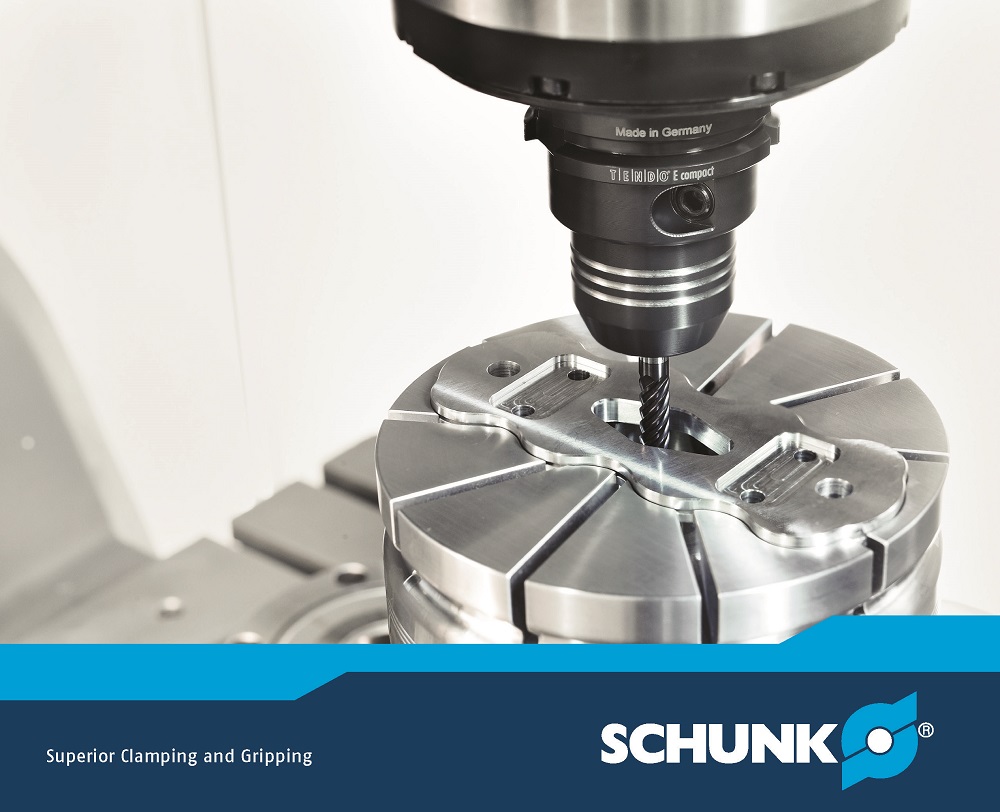 In high-volume machining, choosing the proper tool holder is just as critical as selecting the right drill or grinding wheel. An optimal tool and holder combination allows the shop to derive maximum performance and longevity from its CNC machines and lathes. The best way to lower downtime, curtail waste and contain costs is to ensure the right fit for the bit.
Schunk, an innovative leader in gripping technology and BlackHawk supplier partner, offers a hydraulic concentric clamping toolholder with unique features and capabilities: the TENDO® E Series.
Rugged Yet Refined
German-engineered TENDO E provides durability and performance beyond conventional shrink-fit holders, ER collets, and Weldon mounts. The secret is in the hydraulics; the oil film dampens vibrations and reduces noise for superior cutting action and smooth surface finishes. It also protects the spindle shaft from damage.
Tests have shown TENDO E to last 300% longer than comparable tools. Built for rugged work, TENDO E can achieve torque of 2000 Nm (with a 32mm dia. bit in dry clamping) for heavy-volume machining. Runout and repeat accuracy of <0.003mm ensure high dimensional accuracy and precise, uniform results. High radial rigidity avoids lateral deflection during cutting and delivers the highest removal rates.
Quick-Change Universal Solution
TENDO E is compatible with any cutting tool used in tapping, drilling, end milling, reaming, roughing or finishing. All shaft types are accepted from 3 to 32mm dia. (smooth shank).† Tool changing is quick and simple with an Allen wrench; no extra clamping device is needed.
In sum, the benefits of TENDO E are:
Improved part quality
Longer tool life
Faster production
Ease of use
Competitive price
Seeing is believing! Watch the versatile TENDO E in action. Download the TENDO E brochure here.
View all the Schunk products available through BlackHawk here. For more information on Schunk, contact your BlackHawk sales representative or call toll-free 855-610-1001.
†Also clamps recessed shafts according to DIN 1835 Form B. E and DIN 6535 Form HB, HE can be clamped directly with or without intermediate sleeves.