How to Take the Mystery Out of Tool Inventory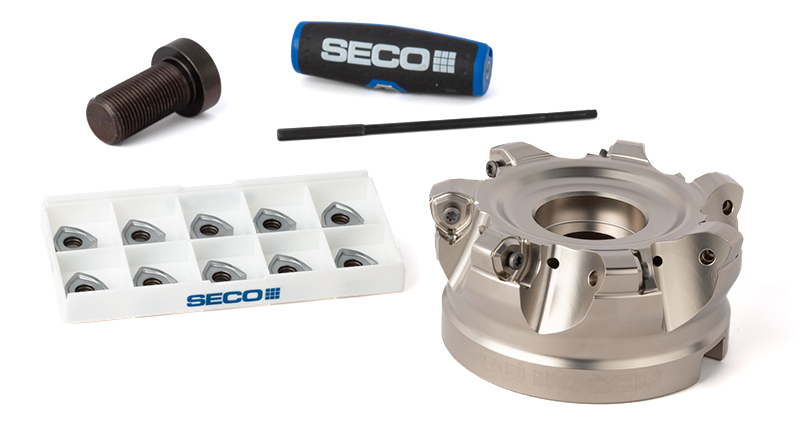 Managing your inventory takes a lot of time, effort and sometimes a crystal ball. Order too much of one and not enough of another and your shop is full of unused tools. Productivity and ROI go down because your crew doesn't have the right tools to finish the job.
BlackHawk Industrial is now offering Seco's new option to help with inventory woes, Productivity Kits. These kits feature Seco's most popular milling cutters, drill bodies and turning tools with a pack of its best-selling inserts. Add in the most aggressive discounts possible and now you have the right tools at the right time for a lot less.
Here are some examples of this new packaging option from Seco:
Seco Turbo Kits - increase your productivity in square shoulder milling applications. Seco's Turbo family of cutters reduce heat generation and cutting forces to optimize your cutting properties. These cutters are available in a variety of configurations, all with copy milled pockets for insert stability and two pitch configurations to tackle almost every material.
Seco High Feed 2, 4 and 6 Kits - Gain improved economy with this high feed milling. Pairing shallow depth of cut with high feed per tooth, these face milling cutters allow you to machine up to three times faster than conventional methods.
Seco Performax Kits - Fully re-designed, the all new Perfomax drill body flutes feature a recently developed anti-friction surface or "wave patterned technology" to minimize contact between the chips and the flutes for higher application security and chip control optimization.
More Information
Learn more about Seco's Turbo, High Feed and Performax Kits, as well as discover our full kit catalog offering, including solid end mill kits of 6 various end mill sizes. You can also check out Blackhawk Industrial's website to shop Seco kits at BHID.com.
BlackHawk Industrial Supply
BlackHawk Industrial is proud to offer top of the line products like Seco Tools. Seco Tools can be purchased right here on the BlackHawk website.
Contact BlackHawk for more information
For any questions about Seco tools or any other products sold by BlackHawk Industrial, contact us on our website or give us a call Toll Free: 855-610-1001. We're happy to help. Our mission is to provide innovative, value-added services and products that reduce our customer's total cost. Feel free to contact us for more information on our value-added services.