New Carbide Drill from SGS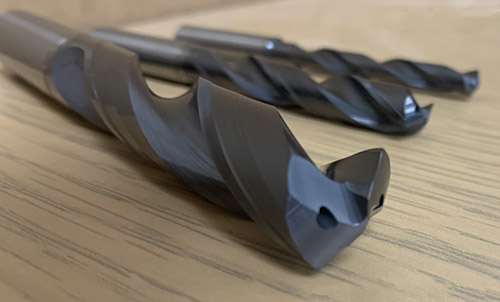 If you're in the business of high-volume hole production, then you're going to want to know about one of SGS's newest products. KYOCERA SGS recently launched the new HI-PERCARB® 143M-S drill which promises better hole quality and longer tool life. This high-performance drill falls under the SGS HI-PERCARB® drill family and is designed perform well in stainless steel and high-temperature alloy applications as well as other material groups.
Containing 278 tools in this impressive new lineup, the HI-PERCARB®143M-S drill features 2-flutes with an internal coolant design offering improved hole quality and enhanced tool life. The single margin design is available in two lengths of cut. Each feature of the HI-PERCARB® 143M-S drill is uniquely engineered to deliver reduced cutting loads, increased operating parameters and enhanced tool life.
Click here to watch the the HI-PERCARB® 143M-S drill in action.
Shop SGS HI-PERCARB® at BHID.com now.
What we like about the HI-PERCARB® 143M-S drill
278 Total Items
Available in fractional, metric, decimal, number, and letter designations
2-Flute internal coolant design
3XD & 5XD lengths of cut
135°-point geometry / h6 shank / m7 diameter tolerances
SGS Ti-NAMITE®-A coating prevents edge build-up and ensures superior wear resistance and extended tool life
What we like about Kyocera SGS
KYOCERA SGS Precision Tools is one of BlackHawk's longtime trusted partners. SGS is a leading manufacturer of solid carbide cutting tools. The company focuses on special cutting tools, tool modifications and regrinds, in addition to high-performance end mills, routers and drills.
SGS specializes in solving difficult project challenges on behalf of customers in the aerospace, medical, power generation and motorsports markets and offers the latest CNC grinding and measuring technology machines. Whether customers need rapid roughing of tough stainless steels or ultra-fast finishing of an aluminum alloy, SGS has a tool that can get the job done while drastically reducing production cycle times and extending tool life.
For additional questions about SGS HI-PERCARB drills sold by BlackHawk Industrial, give us a call toll-free at 855-610-1001 or email [email protected]. We're happy to help. Our mission is to provide innovative, value-added services and products that reduce our customer's total cost. Feel free to contact us for more information.