Slip-on Cleats Help Prevent Winter Slips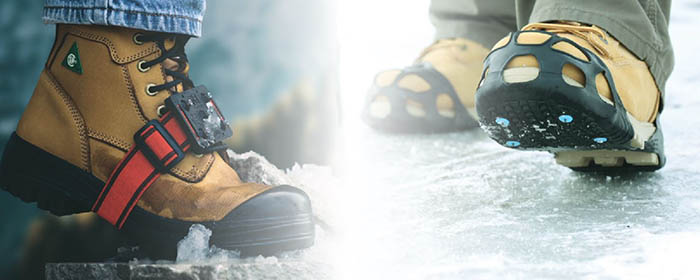 Ah, wintertime. 'Tis the season for trips, slips and falls.
Statistics show that slips and falls are the number one cause of workplace compensation claims. In 2017 alone, more than 20,000 incidents were reported citing ice, sleet or snow as the cause of injury1. Slips and falls comprise nearly 21% of all emergency department visits and hospitalizations2. The cost of these accidents is alarming - both to workers and their employers - as about one-quarter of slips and falls result in more than 31 lost workdays per incident at a cost of $48,000 per compensation claim3.
Icier and dicier
Harsh winter conditions raise the chances for accidental falls. Outdoor maintenance crews, jobsite workers, delivery and dock workers and anyone else who must slog through snow and ice at work is at greater risk.
Most people understand the basics of winter PPE: Layer up, cover the ears and hands, limit exposure, stay hydrated. But these same careful folks often neglect the one spot where traction is critical: their footwear.
Digging in for winter safety
Winter boots are one solution. But changing footwear for the seasons gets expensive. Fortunately, there is an effective, yet inexpensive alternative: Slip-on traction aids for all conditions, including winter. These products fit over work boots and shoes to provide secure footing. Select models can be flipped atop the foot when not needed. They come in assorted styles and traction levels based on the needs of the wearer.
SureWerx® Due North and K1 brands, available from BlackHawk, are two examples featuring both mid-sole (partial footprint) and full-sole varieties. All styles have tungsten carbide spikes. Replaceable spikes extend the life of the cleats.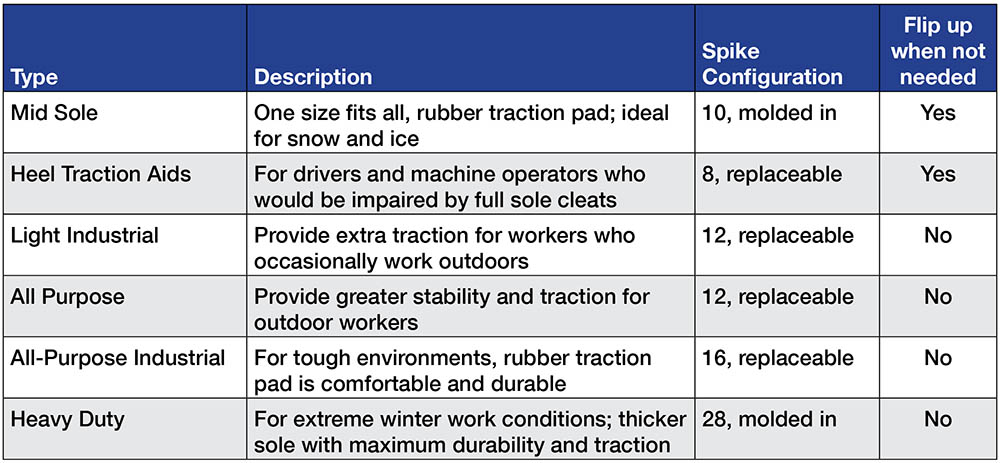 Buyer's Tips
Questions for choosing full-sole traction aids
What is the worker's normal conditions (indoor, outdoor, rugged, uneven surfaces)?
How long or often is the worker on their feet in a typical shift?
Does the worker operate machinery, driving or delivering items?
Choose a model that best matches the wearer's protection needs
For mid-sole traction aids
Determine if the cleats will be worn in a volatile environment such as oil & gas, mining or chemical

If yes, look to intrinsically safe models (certified by NEC in USA and IEC in Europe)
If no, original models will suffice

Then choose the product that best fits the wearer's footwear
Worthwhile prevention
Equipping your workforce with slip-on traction aids pays for itself. Recall that $48K worker's comp claim average. At around $30 USD per pair, a company can outfit up to 1600 workers — the cost of one accident.
Have a question about winter safety footwear? Call our BlackHawk safety experts toll-free at 855-610-1001. We'll get your team outfitted and ready for whatever Old Man Winter can dish out!
1 US Bureau of Labor Statistics
2 EHS Today, "The High Cost of Slips, Trips and Falls"
3 National Floor Safety Institute