Spotlight on Weiler Tiger X Flap Disc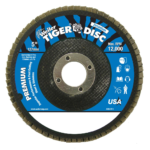 Today, we shine the spotlight on Weiler Tiger X flap discs. When product life and cut rate are an important combination, flap discs provide a good balance of fast cut and extended product life. The Tiger X line, in particular, is a great choice for welding, blending, grinding, deburring and heavy stock removal.
Every day, the market brings us new and better tools. We're seeing larger varieties of drill bits, stronger cutters, faster machines, smarter CNCs and more. When it comes to industrial supplies, the technology and materials keep getting better and better, and we can't help getting excited over these innovations.
BlackHawk has the best partners who push out amazing products based on heavy research. Weiler flap discs are designed to help our customers reduce expenses while improving their quality of work.
About Weiler Tiger X flap discs
The brand is best known for its X3 technology which includes:
Triple split coat grain anchoring system
Dual flap design
Engineered abrasive cloth backing with intermixed ceramic alumina and zirconia alumina materials
Tiger X flap discs have proven to remove up to 40% more material than others.
One of our favorite elements of this product is that it saves our customers time and money. They're made to grind and finish in one step, no need to switch from a grinding wheel to a resin fiber disc. The discs are available through the BlackHawk website. Click here to go directly to the product.
Where to buy: Weiler Tiger X flap discs are available on BlackHawk's website
A long list of Weiler products can easily be purchased on the BlackHawk Industrial web site. For any questions about Tiger X or any other products sold by BlackHawk, give us a call. We're happy to help. Our mission is to provide innovative, value-added services and products that reduce our customer's total cost. Feel free to contact us for more information.
You can email us at questions@bhid.com or call us toll free: 855-610-1001.