Sqwincher Keeps Workers Hydrated in Hot Weather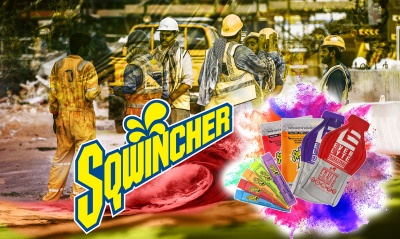 It's time to get your crew ready for a hot summer
The days are getting longer and it's time to get the pool ready and fire up the grill, but some of us don't look at summer the same as everyone else. If you work outside, you know that summer is a time to make sure that everyone on your team is staying cool and properly hydrated.
OSHA states that emplyees have a duty to protect workers from the hot weather
These early heat waves come on suddenly before workers have a chance to adapt to the hot weather. The Occupational Safety and Health Administration (OSHA) found that the early onset of hot weather makes the risk of one of your crew getting a heat-related illness much greater.
To combat heat-related illnesses, OSHA recommends using the Heat Index System, developed by U.S. National Oceanographic and Atmospheric Administration (NOAA). The heat index combines both air temperature and relative humidity into a single value that indicates the apparent temperature in degrees Fahrenheit, or how hot the weather will feel. Essentially a higher heat index, means that the weather will feel hotter and cause a greater risk for outdoor workers to suffer from a heat-related illness.
OSHA has stated that employers have a duty to protect workers from heat-related hazards. They have issued a guide designed to help employers and supervisors keep workers healthy while working in the heat.
Keep workers hydrated and replenish lost electrolytes
The most important OSHA recommendation is to keep workers hydrated and replenish lost electrolytes. While everyone knows about Gatorade, Sqwincher quietly hydrates workers in high heat areas all over world. Known as "The Drink of Industry," Sqwincher was specifically made for people who work in the hot weather and is one of the best answers to keep your crew's body fluid level balanced.
Sqwincher has some advantages over the competition:
Fewer calories - Contains less calories, as well as smaller amounts of sodium, than most other sports drinks.
More minerals - Has at least 50% more potassium than that of other sports drinks. Potassium helps your cells replenish fluids faster. It also includes magnesium.
Natural flavorings - Available in 10 flavors, Sqwincher uses natural flavorings to make its product taste great, and it's sugar-free so it's safe for diabetics.
BlackHawk Industrial Mission
Our mission at BlackHawk Industrial is to provide innovative, value-added services and products that reduce our customer's total cost.
For any questions about Sqwincher or any other products sold by BlackHawk Industrial, contact us on our website or give us a call Toll Free: 855-610-1001. We're happy to help. You can also purchase Sqwincher Qwik Sticks, fastPacks or Sqweeze freeze pop on the BlackHawk Industrial website