The Lowdown on Mitutoyo Calipers
At BlackHawk, we pride ourselves on the quality brands we carry. We know how important your work is to you and we want to make sure we do our part in equipping you with the best tools on the market. With that mission in mind, one of our favorite brand partners is Mitutoyo.
As one of the world's leading manufacturers of precision measuring and inspection equipment, Mitutoyo produces an extensive line of machines, sensor systems and services. This also includes a line of coordinate measuring machines (CMM).
Today, we are shining the spotlight on Mitutoyo's caliper line which encompasses digimatic, dial and vernier varieties for inside and outside measurements, as well as digimatic and non-digital micrometers with special purpose jaws that are ideal for precise hand-tool measurements.
What's a caliper?
Calipers are measuring devices used for mechanical engineering, metalworking, forestry and woodworking. They measure internal and external dimensions of an object with high accuracy and precision. Calipers have one jaw that's fixed in place, and another jaw that slides along the scale to measure the distance between the two jaws.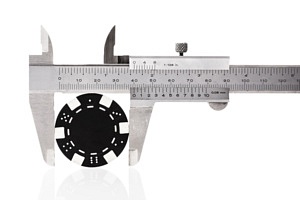 A vernier caliper has the addition of a vernier measuring scale (locked into place with a screw clamp) for more accurate reading. Reading the vernier scale on a manual device can be tricky, which is why many users upgrade to digital displays and dial gauges.
If you're not sure which type of caliper is best for your job, feel free to call us at 855-610-1001 or email us at questions@bhid.com.
For more help on using calipers:
Mitutoyo also has some great educational sites for learning how to use all of their products.
MITUTOYO INSTRUCTIONAL VIDEOS:
https://www.mitutoyo.com/videos/product-demos/
The Mitutoyo Institute of Metrology provides educational courses and on-demand resources across a wide variety of measurement related topics including basic inspection techniques, principles of dimensional metrology, calibration methods and GD&T. We can be contacted via email at mim@mitutoyo.com, via phone at 888-MITUTOYO or 630-723-3620, or visit the Education home page.
BlackHawk Industrial is proud to offer top of the line products like Mitutoyo measuring devices.
Tools from the Mitutoyo can be purchased right here on the BlackHawk site.
For any questions about Mitutoyo measuring tools or any other products sold by BlackHawk, give us a call. We're happy to help. Our mission is to provide innovative, value-added services and products that reduce our customer's total cost. Feel free to contact us for more information.
BlackHawk Industrial
1501 SW Expressway Drive
Broken Arrow, Oklahoma 74012
Toll Free: 855-610-1001