The New Seco Double Quattromill 14 Maximizes Low-Horsepower Face Milling Operations
Face Milling Solutions
Shops across the country continue to search for solutions to maximize their milling operations with lower horsepower machines. In response to this demand, Seco Tools, recently launched the Double Quattromill 14 face milling cutter. This cost-effective solution allows low-power machines to significantly increase depths of rough cutting, semi-finishing and finishing. The design is a smaller version of the Double Quattromill 22, a face milling cutter, that boosts metal removal rates for machines with higher horsepower and torque capability.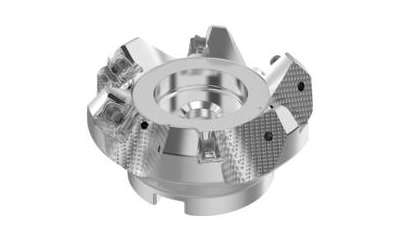 How it Works
Using double-sided inserts with eight cutting edges The Double Quattromill 14 can achieve depths of cut up to 0.236" (6mm) in its 48° lead angle version and up to 0.315" (8mm) in its 71° version. For better chip thinning and higher feed rates, the 48° angle excels in weak or unstable fixturing. With better clearance to avoid sidewalls or part fixturing than the 48° degree, the 71° angle reaches high depths of cut with the same size inscribed circle (I.C.) on the insert.
This Double Quattromill 14's free cutting capabilities allow it to:
Extend tool life
Lowers cutting forces
Reduces machine power consumption
Available Options and Features
The cutter is offered in:
Standard or close pitch
Metric or inch versions
Fixed pocket or cassette style cutter bodies
Seco also applied its new surface texture technology to the cutter's body flute surfaces for durability and greater chip control and evacuation.
The Double Quattromill 14 comes in three insert ranges with various edges and grades.
The ME10 geometry works with sticky materials such as titanium and stainless steel.
The M10 geometry includes sharper edges and smaller T lands for reduced cutting force that excels at lower horsepower levels, working with sticky materials, some tool steels and super alloys.
The M16 provides the best edge protection of the three insert geometries when machining abrasive materials such as steels, tool steels and cast irons.
Please see all our Seco Tools on our website.
Our trained professionals at BlackHawk Industrial are happy to help you with any of your cutting tools and supplies questions.
We welcome you to contact us here: https://www.bhid.com/forms/emailus or call us TOLL FREE at (855) 610-1001.