Three Reasons to Give Thread Milling a Chance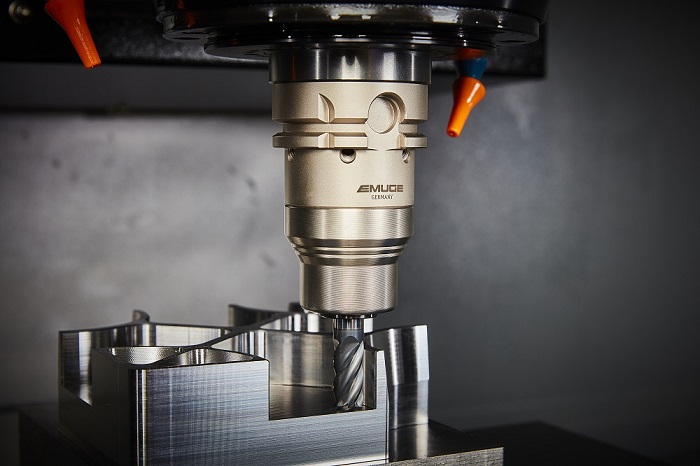 BlackHawk Industrial partner Emuge has long been a leader in high-performance taps, mills, drills, toolholders, and clamping devices. Emuge's metalworking tools support a wide range of manufacturing production. Click here to shop Emuge products at BHID.com.
Although Emuge is known for its high-quality line of tapping products, there are times when thread milling is a better choice. In this post, we'll explore a few of the key differences between the two, and when to use one over the other.
Thread mills offer better size control than taps—where adjusting the diameter of a tapped hole requires the machine operator switch to a smaller or larger tap (the H-size), those that are thread milled can be easily adjusted using the CNC machine's tool offset capability. This also leads to smaller tooling inventories.
Thread mills tend to offer better part quality, especially in difficult materials like those used in the aerospace and tool and die sectors. They also provide a more secure, less risky process—breaking a tap in an expensive workpiece can make for a very bad day. By contrast, a broken thread mill means you replace the tool and get back to work.
Less force is needed with thread milling. This is no big deal on most machining centers, at least until you get up into the 5/8-inch diameter and larger range, where available spindle power may be inadequate to drive a tap. On the other hand, thread mills are very low force and virtually unlimited in terms of thread diameter.
Advantages aside, thread milling does come with some ground rules. The tool should be securely gripped, preferably using one of Emuge-Franken's FPC chucks. Chip evacuation is critical, which is why we recommend generous application of water-soluble cutting fluid or even an air blast to get chips up and out of the hole. And always use the correct feed rate, one based on the outer diameter of the thread mill and not the programmed (and smaller) circular motion.
Be sure to check out the latest offerings and catalogs from Emuge: the new Multi-THREAD Mill, a cost-effective universal thread milling solution for job shop manufacturers; and TiNox-Cut End Mills for Aerospace Materials.
BlackHawk Industrial is proud to offer top-of-the-line products from Emuge. We are ready to take your questions and offer expert assistance in metalworking and cutting tools. Contact us at [email protected] or call us TOLL Free at (855) 610-1001.
Marlon Blandon, product manager for thread mills at Emuge-Franken USA, contributed to this blog.