Vestil Self-Dumping Hoppers: A necessity for any worksite.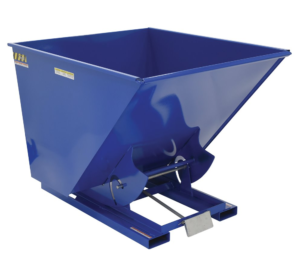 The bid was won and now it's time for the work. Everything is set. There is only one question left: how will the material move around? You also ask how will refuse be stored and/or dumped. The right tools make tough jobs easier. You need self-dumping hoppers. Used for everything from trash storage and removal to shifting inventory around, they can turn an inefficient even dangerous job into one that saves labor time and prevents injury to employees.
BlackHawk Industrial Supply features Vestil Self-Dumping Hoppers. Made of heavy-duty steel with durable construction, they feature light to heavy duty models with a one third to three cubic yard hopper capacity.
One of the best ways to increase worker safety is to include a self-dumping hopper to the job site. It virtually eliminates the need to manually manipulate heavy loads. All Vestil Self Dumping Hoppers automatically dump when the bumper release contacts the side of the dumpster and return to an upright and locked position automatically after it unloads. This safeguards against accidental discharge. A cable by the seat of the fork truck allows the driver to manually dump the hopper without leaving his seated position. A safety restraint ensures that the hopper is secured to the fork truck.
Please see all our Vestil Self-Dumping Hoppers and all of our featured products on our website.
Our trained professionals at BlackHawk Industrial are happy to help you with any of your self-dumping hopper questions.
We welcome you to contact us here: https://www.bhid.com/ContactUs or call us TOLL FREE at (855) 610-1001.