VSM Guide to Abrasives for Handheld Grinding
Handheld tools can be used for a multitude of grinding applications, including smoothing weld seams, removing flaws and creating specific surface structures. With help from BlackHawk partner supplier VSM Abrasives, we explore the most common power grinding tools and compatible belts and discs.
The tools listed below are typically used for stock removal and/or finishing tasks. Stock removal includes beveling, calibrating, deburring, cylindrical grinding, flat surface grinding, levelling and weld removal. Finishing includes cleaning as well as defined finishing. The ability to accomplish a specific task varies by tool.
Angle Grinders. Smooth weld seams and remove surface defects, also cleaning and finishing.
Dynafile Sanders. For removing casting bosses and deburring, also cleaning and finishing.
Tube Return Grinders. For off-hand grinding of tubes.
Drum Grinders. Ideal when a perfect surface finish is needed, or for high stock removal.
Disc Sanders. For detailed work, especially in the automotive industry.
Orbital Sanders. Typically used for detail work such as painting preparation.
Portable Belt Sanders. Used for deburring and surface machining and rounding.
Parquet Sanders. Free-standing machines used for sanding wood floors and removing resinous coatings.
Common Grinding and Sanding Tools and Applicable Tasks/Materials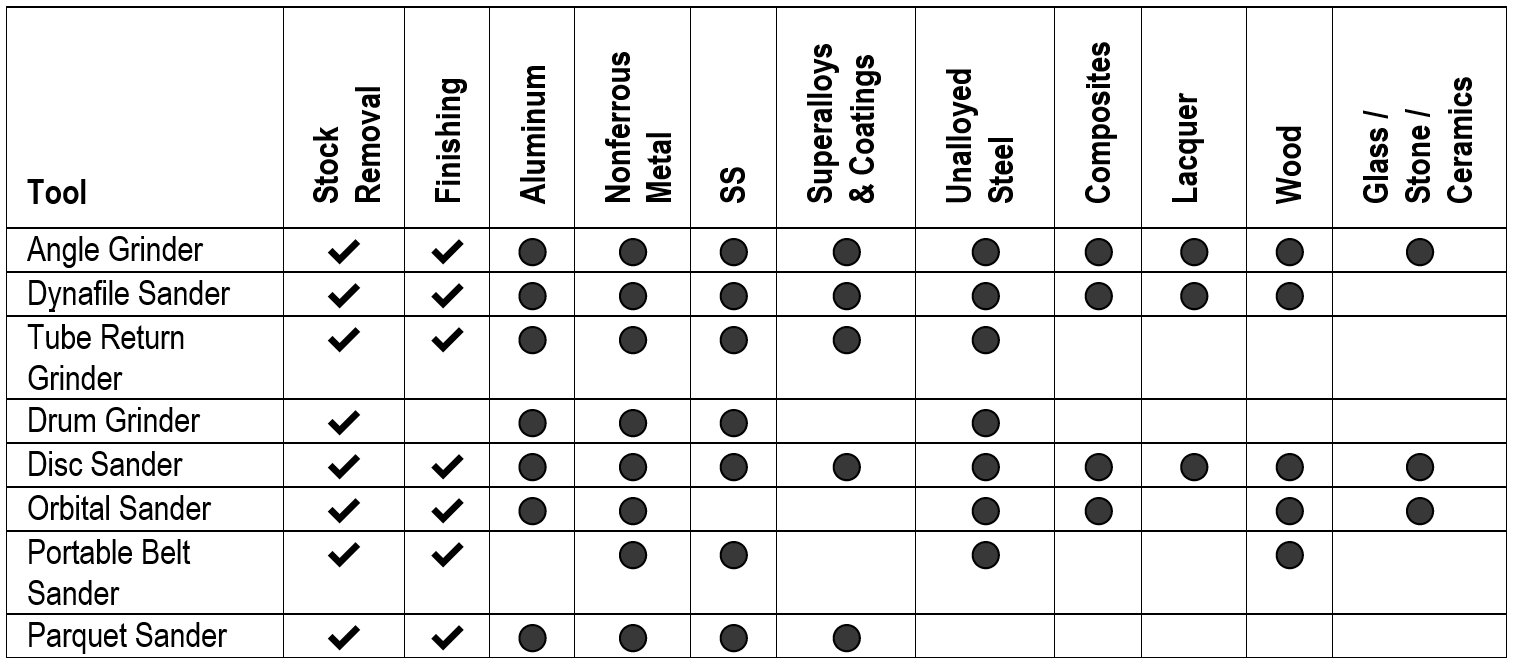 BlackHawk carries a full line of VSM abrasive products for metalworking, woodworking, and other materials. VSM solutions cover backstand grinding, cylindrical grinding and flat grinding in addition to the hand methods described here.
For more information, or to speak to our experts about your specific challenges, call us at 1-855-610-1001.