Walter Unveils New Milling Tools: Xtra-tec XT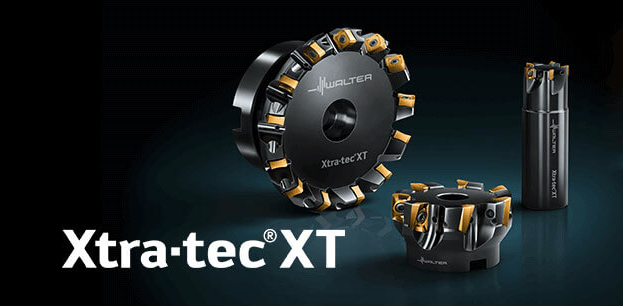 Every day, the market brings us new and better tools. We're seeing improved varieties of drill bits, stronger cutters, faster machines, smarter CNCs and more. When it comes to industrial supplies, the technology and materials keep getting better and better, and we can't help getting excited over these innovations. BlackHawk has the best partners who push out amazing products based on heavy research. The brands we carry are designed to help our customers reduce expenses while improving their quality of work.
Today, we shine the spotlight on Walter cutters. Walter recently announced some exciting news. The manufacturer has introduced its newest line of milling tools: Xtra-tec XT which promise increased productivity and process reliability. Specially redesigned for shoulder and slot milling, the XT stands for "Xtended Technology."
Introducing the Xtra-tec XT
One of the key features of the Xtra-tec XT line is that Walter has repositioned the placement of the indexable inserts, which now rests at a greater incline and produces a larger contact surface. The means reduced surface pressure in the seat while increasing stability. Another upgrade is a larger screw hole cross-section which also adds greater stabilization to the indexable insert. Longer screws hold the indexable insert in place, offering more security. The new shoulder milling and face milling cutters bodies also have more material behind the insert seat, creating more stability.
With the new position of the indexable seat, the new Xtra-tec line appears to be more reliable and functional than before. Moving the seat to a greater incline leaves room for the addition of an extra tooth which translates to increased productivity. A 90° shape of shoulder milling cutters reduces the need for additional finishing operations. Additionally, the clamping screws are easier to access, which optimizes handling.
BlackHawk is proud to carry many tools from the Walter Xtra-tec line (see available tools online) and is able to order any Xtra-tec tools not shown. Call us for any specific questions about the newest Xtra-tec products at (855) 610-1001.
A long list of Walter products can easily be purchased on the BlackHawk Industrial web site. For any questions about Xtra-tec line or any other products sold by BlackHawk, give us a call. We're happy to help. Our mission is to provide innovative, value-added services and products that reduce our customer's total cost. Feel free to contact us for more information.
BlackHawk Industrial
1501 SW Expressway Drive
Broken Arrow, Oklahoma 74012
Toll Free: 855-610-1001