What's the Difference Between Packing and Strapping Tape?
For most people, tape is tape. Grab a roll and pack a box. Today tape is a science and packing and shipping is more important than ever. The two most confused tapes are packing and strapping tape.
Standard Packing Tape Terms
Tensile Strength- Measures the force required to pull the tape to the point where it breaks
Backing Material- The material that is used for adhesive application
Elongation- the stretching point right before the tape breaks
Core Size- The inside roll diameter of a tape
Length- How much tape is in the tape roll
Width- Tape width
Thickness- The thickness of the tape
Packing Tape
Packing tape is what it says it is, tape to pack boxes. After that, the simplicity ends. Packing tape comes in many different sizes and strengths. Choosing the correct packing tape is important because the wrong tape could cost a company thousands of dollars in damaged or lost goods.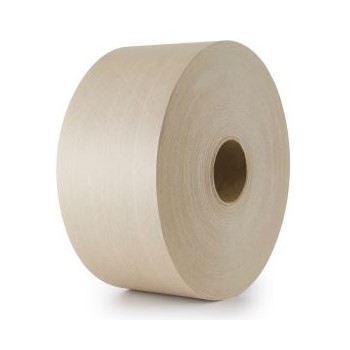 Choosing a Packing Tape
Two of the more important items in choosing a packing tape are package weight and shipping method. Packing tape solutions are as follows:
Package Weight
For heavier loads, stronger packing tape is recommended because of the extra stress that these loads put on packages.
Shipping Method
Individual cartons tend to have more pressure placed upon them due to increased handling. Pallets of cartons put less pressure on each package. The environment also takes its toll on packing tapes. Always consider temperature, sunlight, moisture and length of time the package will be in route or in storage.
Strapping Tape
According to 3M, strapping tape is ideal for strapping, palletizing, bundling, holding, attaching, reinforcing, securing and other general-purpose applications. In short, they are used with larger heavier jobs where extra tape strength is needed. Strapping tape is reinforced with various materials. They include:
Steel
Woven Cord and Nylon
To learn more about strapping tape download BlackHawk Industrial's Guide to Strapping Ebook, the packaging incorporated guide to strapping.
BlackHawk Industrial is a dedicated to working with our customers to find the best packing tape needed for the job. Our trained professionals are happy to help you with any of your questions. We welcome you to contact us here: https://www.bhid.com/forms/emailus or call us TOLL FREE at (855) 610-1001.