WIDIA All-Star ISO Turning Inserts: Quality, Quickly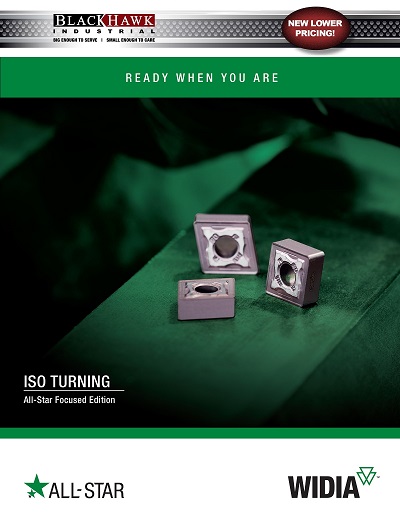 Manufacturing and MRO managers know the inherent risks of an unreliable supply chain. Unplanned downtime wastes time and money. Shop managers look to suppliers to keep their bins stocked with critical tools. This is especially important with high-volume consumables such as mills, drills, inserts and taps.
WIDIA All-Star
Fortunately, BlackHawk is a participating distributor in the WIDIA All-Star program. All-Star provides the best of renowned WIDIA versatility, reliability and performance with 24-hour delivery. All-Star tools have been selected due to high demand and are always in stock. Click here to view the new WIDIA All-Star ISO Turning catalog.
Customers can choose from more than 10,000 holemaking, solid end milling, turning, indexable milling and tapping products. Ordering is as simple as 1-2-3:
Choose your tools
Order through BlackHawk
Receive your order where you need it in 24 hours
FEATURED PRODUCTS: WIDIA ISO Victory Turning Inserts
The WIDIA Victory line of ISO turning inserts is part of the All-Star lineup. Victory inserts are engineered to perform under an array of cutting conditions from roughing to finishing of steel, cast iron, stainless steel and high-temperature alloys.
The All-Star product line consists of specially selected products that are highly requested and always available to fill the demand.
At the heart of this strategically assembled group is a specific selection of the ISO Turning portfolio. This group contains a number of inserts for rough to finish turning of steel, cast iron, stainless steel, and high temp alloys.
All-Star products are always available, so testing a Victory turning insert is as easy as calling BlackHawk.
BlackHawk Industrial Supply
BlackHawk Industrial is proud to offer top of the line products from WIDIA. We are ready to take your questions and offer expert assistance with your cutting tool questions. Contact us at [email protected] or call us TOLL FREE at (855) 610-1001.