Dynabrade Downdraft Tables Protect the shop, the workpiece — and you!
Metal filings and sawdust present flammable and explosion hazards in the shop. Airborne particulates also foul the air and cause respiratory problems. Debris on the bench or workpiece can hamper quality. And dust and shrapnel find their way into every nook and crevice and make a fine mess in general.
A downdraft table greatly mitigates the risks of working with volatile materials and creates a safer workspace for your people. Dynabrade offers three different downdraft products for metal, dust and contaminant collection, each in a variety of sizes and configurations.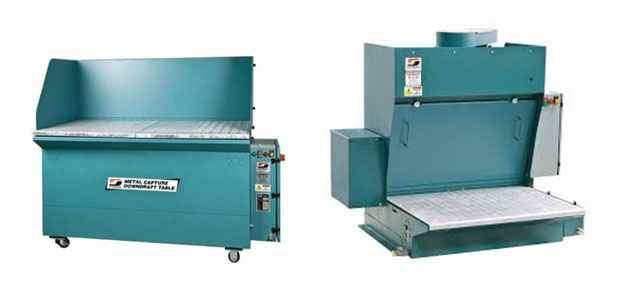 Metal Capture Downdraft Table and Station
These products capture combustible metal grinding particles, like aluminum and titanium dust, in water. They are widely used in aircraft and military shops, refineries, foundries — anywhere potentially explosive conditions exist. The mobile table and tabletop station feature:
An interlock pneumatic valve with blower and time delay — for safety, air tools will activate only when the downdraft unit is running*
Class II, Group E explosion-proof motor*
Non-sparking aluminum work surface*
Automatic water level control*
Vented sump (in main tank)*
Low voltage control*
Lockable fused power disconnect*
Sturdy stainless steel construction
*Meets NFPA requirements
Downdraft Table
Downdraft Station
Type
Mobile (locking swivel casters)
Tabletop
Models
6
4
Work Surface Area
36" x 60"
18" x 36" or 26" x 36"
Capacity
42 gal.
25 gal.
Vacuum
1800 CFM @ 4" static pressure
1000 CFM
Electrical
230 or 460V 60Hz
230 or 460V 60Hz
Options
Supplied back and side shields are removable
Choose up, down or side exhaust
Front and side shields sold separately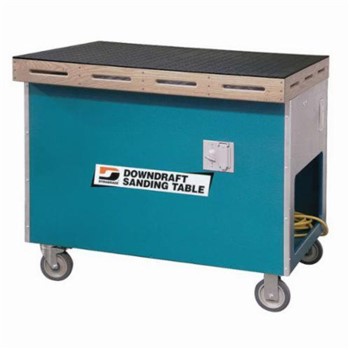 Downdraft Sanding Table
The downdraft sanding table eliminates airborne dust and contaminants while sanding non-metallic surfaces. Choose from two styles:
The standard table is available in three sizes (work areas 33"W x 41"L, 33" x 60", 36" x 72"). Ideal for use with vacuum or non-vacuum tools, this table is equipped with dual filtration (MERV 8 and prefilter), a Rhino Linings® anti-slip tabletop, swivel casters, twin storage compartments and two dust-tight electrical outlets.
The 48"W x 96"L heavy duty table has 70% more filtering area than competing brands. It also features dual filtration and 12 paper filters positioned around the all-metal frame. Reverse incline blowers powered by rugged TEFC twin electric blowers deliver powerful dust collection. The tabletop is medium density ¾" thick fiberwood (MDF), and the unit is supplied with an antistatic, antislip mat. Casters are optional. Sixteen configurations are available.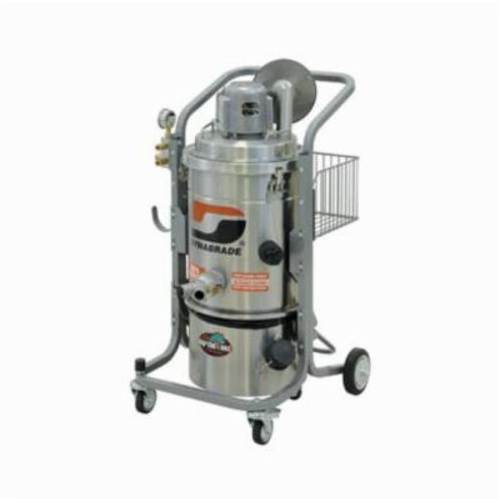 Fear the Raptor Vac
For reliable, through particulate cleanup away from the workbench, Dynabrade also has a complete line of vacuum systems. The Raptor Vac line includes portable, backpack and wall-mounted models in electric (120 or 230V) and pneumatic styles. Immersions separators are ideal for collecting aluminum, magnesium and titanium dust. Depending on model, Raptor Vacs are suitable for use in explosive and "normal" environments per ATEX standards.
Always wear protective apparel and safety gear when working with cutting tools. And know the location of your nearest first aid station.
Our mission is to provide innovative, value-added services and products that reduce our customer's total cost. Feel free to contact us for more information.
BlackHawk Industrial
1501 SW Expressway Drive
Broken Arrow, Oklahoma 74012
Toll Free: 855-610-1001