Gorilla Mill: Built Stronger for Higher Performance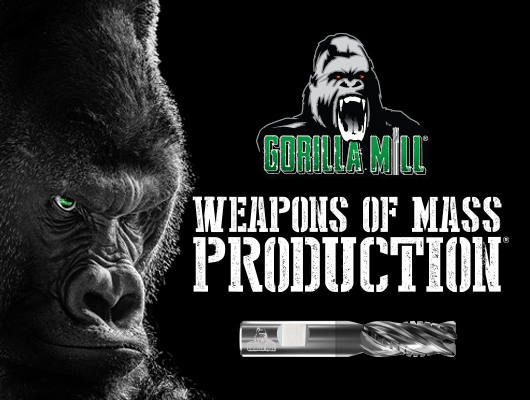 The 800-lb. Gorilla in the Industry
Gorilla Mill specializes in developing cutting tools for various industries including aerospace, automotive, medical and manufacturing. Founded in 1974, their modern facility is based out of Waukesha, Wisconsin. There, they produce high performance, customizable "weapons of mass production" that can be used in the following applications:
High-speed machining
Aluminum and nonferrous machining
Machining cast iron
Machining stainless steel
Machining inconel
Milling steel

Weapons of Mass Production
Gorilla Mill's assortment of patented variable helix end mills are promised to "reduce chatter, decrease cycle times, extend tool life and create a superior tolerance and finish.'' They are all designed on a 3D CAD simulator, then produced on CNC, auto loading cutter grinders. By using a modified version of this system in their regrind services, they are able to transform lackluster tools into "like new" condition.
Their attention to detail extends to each step of the tool-making process. Equipped with GMP Edge Prep, Gorilla Mill has elevated edge preparation to a level of near perfection that results in products with superior strength, tool life and optimum performance.
Not Monkeying Around
Gorilla Mill's unique branding doesn't stop at the tagline, but carries over into their tool names. At Blackhawk, we offer a range of their products, including their line of Chimpbreakers flutes that come in three selections: Silverback, Phenom and Baboon. Their Sasquatch line, as the robust name implies, is comprised of heavy-duty roughers/finishers that are made with the highest transverse rupture strength nano-grain carbide substrate available. It's ideal for aggressive machining applications in Inconel, titanium, stainless-steel toos and hardened materials.
In accordance with their promise to deliver superior tools for any need, they provide a Build a Custom Tool service and calculators for milling and drilling on the Gorilla Mill website.
Our mission at BlackHawk Industrial is to provide innovative, value-added services and products that reduce our customer's total cost. Our professionals are happy to help. You can contact us for more information about the Gorilla Mill by phone at 855-610-1001 or on our Contact Us web page. See the newest catalog for Gorilla Mill on our website.